"Harry Potter theme can make your wedding day unforgettable. But what will your divas wear? To know, read on."
Is there anyone who does not like the classic Harry Potter? I don't think so! But incorporating this theme on your D-day can be a little tricky. But it is worth it if you are a fan plus, it would definitely make it a headline! So, if you and your fiancé are die-heart Harry Potter fans, then make sure the theme is set that way. A fake white owl, books and wands, magic brooms and sorting hat would just create the perfect mood for this quirky wedding. And how about exchanging the vows around the fire goblet? Sounds fun, right? The cake can be customized and made in the shape of a sorting hat as well.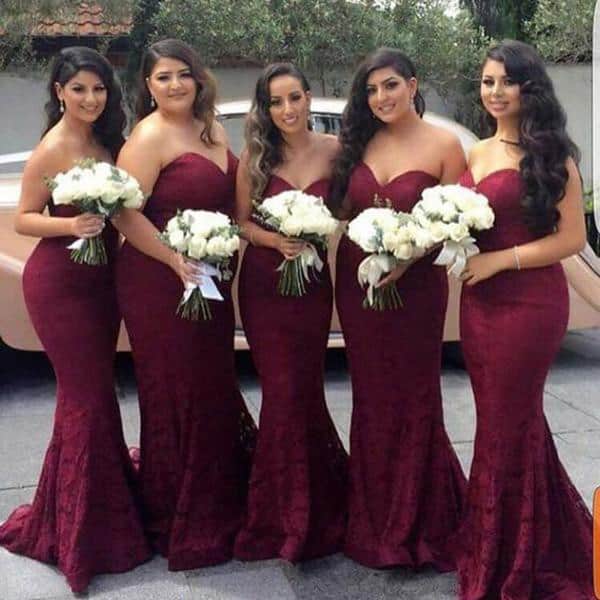 But now there is this big question – what will your darling divas wear? No, they do not need to look like witches. May be, a little experimenting and a few smart accessories or makeup will do. Read on to know more.
Dark Red Sequined Mermaid Style Dress:–
You must be thinking what has this to do with the theme, right? Aah well, if you ask your gang of girls to be in weird clothes as per the theme, I am sure that they will protest. So, give them the liberty to dress up in sassy long bridesmaid dresses such as this one in dark red. And you can quirk up the style with golden snitch lockets! Yes, these can be customized as well. Ask them to go for bold and bright makeup as the light ones wouldn't go with the theme and the dress. The best way to get these dresses is by searching online and then, sharing the ideas over WhatsApp, and then ordering accordingly. Give them the liberty to choose the necklines according to their body types.
An off-shoulder Emarald Gown:-
Want them to show the house colors with pride? If you are an HP fan, you will get me! Then, off-shoulder gowns with a lot of flare and in the rich hue of emerald would be it for your girls. You can get them customized at any boutique but if you want to stick to your budget, then go offline. Trust me, the designs and color options are much more if you go for offline stores. Ask your lovelies to team this up with some silver jewellery or just, leave them like that. Makeup should be green and black Smokey eyes along with nude lips. This one is my personal fav for this amazing and adventurous theme.
Make them Look like Hermione with Dresses that has a Lot of Ruffles:-
And if you want to keep it all simple and cute, then long gowns with a lot of ruffles and in pastel shades would just be great! Harry Potter inspired hairstyles would add up to the drama. These have a soft romantic touch to it, which is again great for this theme. Pick fabrics like organza or tulle so that they are comfortable to move around in these gowns. Nude or no makeup look would be the perfect complement to this choice of yours.
If you still have some amount to spare, then get a few pairs of shoes customized for them. They would love it and it would just be the icing on the cake.
Now that you know it all, hopefully you will be able to buy these kinds of dresses for them. And yes, wedding invitation cards should have the HP essence as well. Table decors such as fake spiders, wands, etc will add up to the factor. Pump up now and start prepping up. Make your wedding the talk of the town. Best wishes!
To know more about these kinds of gowns, party dresses or mermaid prom dresses, keep following my blogs.