Unlike wallets for fiat currency – crypto wallets keep digital proof of cryptocurrency ownership in form of private keys. The available types include hardware wallets, software wallets, custodial and non-custodial ones. Each offering distinct security features and benefits, therefore it's crucial to select the wallet that suits your needs and aligns with your trading or investment goals.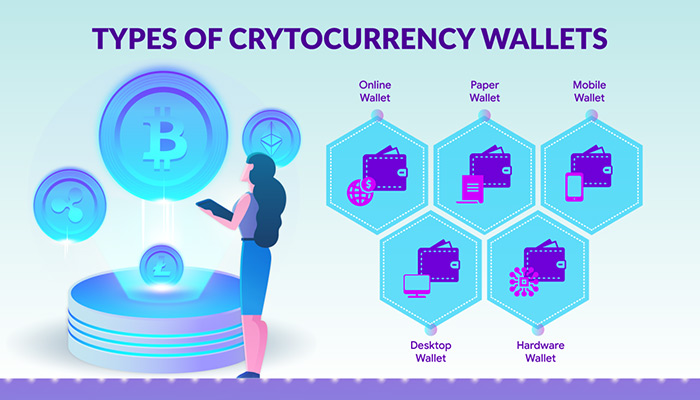 Crypto wallets act as gateways for managing cryptocurrencies and conducting transactions – these software applications (or hardware devices) store users' public and private keys. Crypto wallets are designed to be user friendly and straightforward making it easy for beginners to engage in cryptocurrency transactions. To ensure the safety of assets users can create backups of their wallets using seed phrases or private keys. It's important to note that safeguarding the seed phrase is just as crucial as protecting the keys because it grants access to cryptocurrency assets. 
Understanding How Cryptocurrency Wallets Function
Cryptocurrency wallets store currencies like Bitcoin and Ethereum by utilizing blockchain technology, which records all transactions each new cryptocurrency transaction are signed with private key from crypto wallet and then broadcasted to the blockchain network for validation and inclusion.
Exploring Hot and Cold Crypto Wallets
Hot wallets always have access to the internet because these wallet types are usually installed on user devices or provided by entity service providers. Examples of hot wallets are any software wallets for desktops and mobile devices, web wallets and wallets on cryptocurrency exchanges. On the hand cold wallets are offline for most of the time  – making them less susceptible, to hacking or malware attacks—especially when storing amounts of cryptocurrency. 
Another type of wallet is a paper wallet, which offers a physical record of private and public keys. However it's important to note that paper wallets may be susceptible to loss or damage. For storage of cryptocurrencies with immediate access requirements using cold wallets is considered a best practice. Users must take responsibility for storing their assets. Carefully consider the associated risks.
Custodial vs Non-Custodial Wallets
Custodial wallets are hot wallets – primarily managed by service providers like cryptocurrency exchanges, they cater to both newcomers and experienced traders due, to their user-friendly nature. If a service providers system gets hacked it could lead to the compromise of all users private keys.
Custodial wallets face security risks compared to custodial wallets. Some custodial wallet providers offer an added layer of security by storing funds in a wallet, which provides better protection, against online attackers. To ensure transactions two factor authentication (2FA) and biometric authentication are often necessary enhancing security levels. 
Non-Custodial
Non-custodial wallets provide users with control over their keys, which are stored exclusively on the users device – this significantly boosts security and decreases the risks. During non-custodial wallet setup users create a recovery seed phrase composed of 12 or 24 words that's essential for accessing funds and acts as a backup if they lose their device.
Safeguarding the seed phrase is crucial because losing it would mean losing access, to funds.
To enhance the security of your phrase it is advisable to keep it offline and avoid storage where it may be vulnerable, to hackers. Instead consider writing it down on a piece of paper or storing it on a hardware wallet. Remember that users have responsibility for safeguarding the security of their non-custodial wallets, which includes effectively managing their and seed phrases.
Different Types – Different Purposes
When dealing with cryptocurrencies you have multiple options for storing and utilizing them. Hot wallets offer convenience for transactions as they are easily accessible and user friendly. Additionally traders often use wallets to transfer funds between their exchange accounts to seize market opportunities.
However if you view your cryptocurrencies as investments, hardware wallets provide the level of security. These wallets store your private keys offline, shielding them from threats such as hacking attempts. They are particularly suitable for safeguarding long term investments.
For individuals who need access to their cryptocurrencies from devices, web wallets offer convenience without compromising security. They are well suited for handling transactions and managing day to day expenses in cryptocurrencies.
Mobile wallets prove ideal for making payments, at stores that accept cryptocurrencies.
In the world of cryptocurrencies it's crucial to choose the wallet, for storing your assets. There are options such as custodial hot wallets, cold wallets and non custodial wallets. If you're new to cryptocurrencies its recommended to start with wallets like those offered by cryptocurrency exchanges. 
Understanding the differences among these wallet types is essential in selecting the one that best suits your needs. Armed with this information you can now make a decision for picking a cryptocurrency wallet that meets your requirements.
Follow – https://shiftkiya.com for More Updates