JEWELLERY DESIGNING:
Designing a Jewellery is an art, it needs creativity and thinking. While designing a piece of jewellery for a person, we should consider so many things. At first, the individual for whom you are designing, then comes shapes, styles, and colours for the particular type of design also includes requirements and limitations that are necessary to make the piece beautiful, stylish and comfortable. If these aspects are kept in mind, your buyer will have a piece of jewellery that will fit an individual's personalities, a way of life, and be most important to her his appearance. In this way, a client will accrue jewellery that can become an integral part of their wardrobe and remain cherished possession for years and possibly many generations.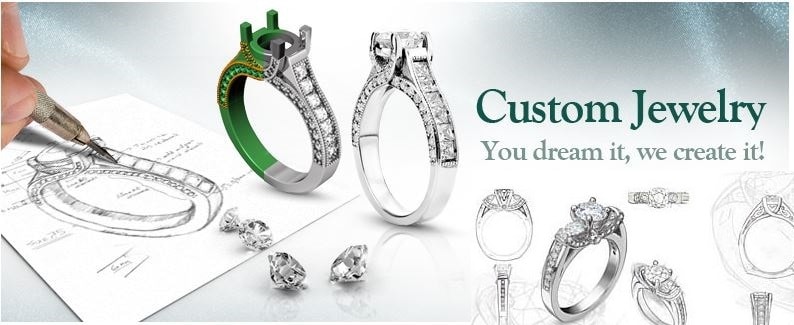 The first and main things to be remembered is:
DESIGN PREFERENCE- A designer should keep in mind whether the person is male or female for whom you are designing that would make the work easier and the piece can be designed accordingly.
Occasion and Theme- After deciding the type of jewellery a designer should identify client's interest in design. The design must be on those themes by keeping the latest trend in mind. Along with this, the occasion on which customer is going to dress in it matters a lot, it may be Engagement, Wedding, Birthday, Anniversary,  Valentine's Day,  Diwali, Eid, Christmas, official meets etc. If it's for nuptials, a reputable designer can always be relied on to come up with the best custom men's wedding rings as well as wedding bands for women.
Size of Jewellery- Some jewellery pieces needed a particular size to wear i.e. Ring, Bangles, Bracelets, Necklaces, etc. Ring Use a ring that fits you to settle on your ring size. The length of the Bracelet to buy is determined by the size of the wearer's wrist and size of the beads in the bracelet. The design would vary accordingly.
Metal- It is necessary to make a blueprint of the design before it is converted into real Jewellery piece so the designer must show metal description in their design. What is appropriate metal i.e. gold, silver, platinum, alloy, brass or other substance?
Metal decoration- Metal decorations enhance the look of jewellery. So after deciding metal designer should work out on metal decoration. Whether it can be Matt finish or satin finish so many types of finishes are there can be used. Hammering textures are trendy these days.
Choice of Gemstones- Jewellery is a magnificent accessory which can be designed in a wide range of metals & gemstones. These gemstones can be used in different sizes, colours, and varieties. Diamond is one of the most desirable and costly gems in existence and is a popular choice for engagement rings and other jewellery. When using diamond & other colour gemstones in jewellery, there are four aspects that must be considered.
Of these four aspects, the most important is the carat of the diamond. As the weight and size increased the price become very higher. The facets of the gemstone should be balanced and this is called symmetry. And finally, the cuts should be made through specific lines. Gemstones should be clear.
However, looks can be illusory, but if you are not wise enough to choose a good quality of gemstones, you might end up with the poor quality of gemstones. Gemstones either depend on customer choice or the look of jewellery. Sometimes they choose it or like to wear it according to their planetary point.
The setting of Gemstones- It is very necessary after choosing gemstones that which type of settings would go for. Sons are secured into their settings by first cutting a seat in which the stone rests and then covering the stone from above with some additional metal. This traps the stone so that it cannot move down or up. There are several options on how to secure a stone into a mounting. The most common settings are Prong Setting, Grain Set other styles are Rub Over, Pave, Channel, Illusion, Star Setting, Invisible Setting, Suspension Setting and Countersunk. Stone setting is an important feature of jewellery designing and making.
You don't need to follow the trend to be stylish. Fashion is in the sky, in the street, fashion has to do with ideas, the way we live, what is happening. And if you want to go for jewellery hub with lots of creativity, FASCRAFT is the awesome website where your search ends with definitely remarkable and unique purchase.