A wise man once said that spending money on things that separate you from the ground is worth the investment. For example, bed, mattress, tires, and, most significantly, shoes. There are shoes every man needs, and to be certain, men love shoes. It may seem to go against the ancient gender stereotype, but lurking deep down most men is love for footwear.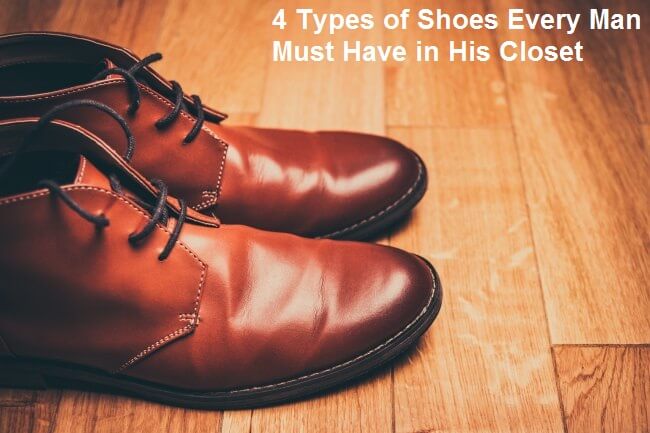 Chukkas
Chukkas are known to be the business casual of boots. They are unpretentious, comfy, and look sharp enough so that you can easily go in them to social occasions where you are trying to stroke and impression that you are not a slob who only wears old sneakers to the bar. They are not just awesome for a date or getting the happy hour on a Saturday night, although if you are a professional 9-to-5 cubicle machine, chukkas can go perfectly with jeans or khakis in an office. Their availability is so convenient these days, almost every shoemaker is offering a couple of leather options with a different price range.
Loafers
A stunning pair of loafers is something every man needs. If you are an office jokey or just about to hit the club, loafers can sometimes be an all-in-one choice for men. They come with buckles, some with tassels, and some are just simple and plain leather, but all of them speak their own unique style story.
Leather Dress Shoes
Attending weddings, achievement celebrations, retirement dinners, and funerals are simply a fact of life. You will always have one reason or another that you need to put on something formal. Regardless of how all the shiny men's magazines describe luxury dress footwear, you don't have to invest in an upscale designer hand stitched Italian leather shoes to look good. If you are only going to throw on the black dress shoes a few times a year, looking for a more affordable option will be good, and of course, you will get almost the same thing. If budget is your concern, you can always opt for the amazing Shoe Embassy discount codes to get your favourite ones at a much affordable price.
Gym Sneakers
Sneakers are somethings that every man needs and loves, of course. If you lift, get your cardio in, play post-work sports, or are a soccer player, as self-explanatory as it comes, you need sneakers in which you can sweat. You must keep your sneaker game fresh all the time. Not just for sweating, they go wonderfully with almost everything, if you are the lazy type, without compromising on your looks.
These are four of the most important, needed, and awesome shoes a man must have in his closet, so he can be always ready to go in style wherever he needs to.