One of the tremendous and designated degrees of dentists is BDS. To become a dental expert, you need to complete the BDS Course.
You will get to know about the denture, dental problems, and surgery by this course. There is a varied opportunity available in the hospital, pharmaceutical, and medical device manufacturing industries. This is regarded as job oriented degree programs.
By successfully completing the four-year academic education, you will get the BDS degree. After getting the degree, one-year compulsory internship program in dentistry education, leading to the Bachelor of Dental Surgery degree program. Now, you are qualified to practice as a dentist after completing your BDS.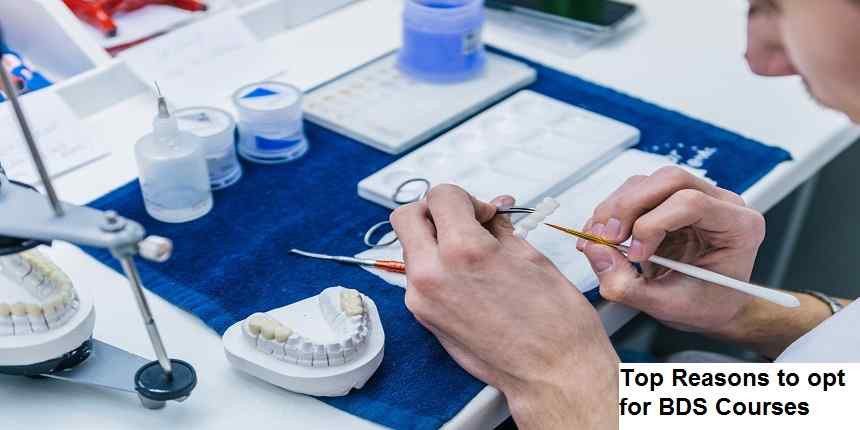 A BDS expert is proficient in treating different problems related to teeth. The dentist can diagnose all dental and related diseases, and they will suggest the after treatment options.
Those who want to pursue BDS must have the enthusiasm and hard-working attitude in the study to complete the BDS course as it is very challenging to pursue. You must have a focused mind for doing BDS.
   Course Fee
Cost of the education, duration of the course, easy admission, availability of seats, employment opportunities are the main reasons to choose the BDS course. It is more affordable to every class of society. There is a lucrative career after getting a BDS Degree. Here are the detailed explanations about why to choose BDS over MBBS?
   The short duration of course
To complete an undergraduate degree in Dental Surgery than MBBS, it takes less time than an MBBS course. Compared to MBBS degree, Students get their BDS Degree early.
In comparison to other fields admission, the BDS admission is much easier as there is comparatively less demand for the former. Numerous recognized dental colleges having teaching hospitals are offering BDS admission.
You must have to score high in the entrance exam to get a merit seat for MBBS course as there is a massive competition for MBBS seats. But in the case of BDS, as there is considerable competition for MBBS seats as the competition is quite low and any student with average marks can get a BDS seat.
   No need for Higher Studies
After getting a Bachelor of Dental Surgery, you have to pursue MD/MS for specialization as it is a specialized degree. Whereas MBBS degree restricts you from being a general physician, and you must have a post-graduate degree in any of the specializations to be a specialized doctor.
You can start working as a dentist, after successful completion of the BDS course were as to be employable you will have to do MD/MS after MBBS.
When compared with the other fields doctors, Dentistry is a stress-free job, and there is no emergency call. Tooth related diseases or infections are not life-threatening problems and can be treated as directed by the dentists.
You can start earning after completing your course, where the actual earning of an MBBS doctor starts very late. So there is a lucrative high career after the BDS course.
You will find that these reasons mentioned above are real and true to pursue the BDS course, although MBBS could be your first-course choice.
BDS doctors and dentists are also a necessary part of the healthcare department as we can't ignore any dental problems. They help the patients to maintain proper hygiene. BDS experts can start their clinics or work in hospitals. With the experience, they can get great remuneration.