Nursing as a profession is hard. Not only that, but training to become a nurse is also tough and full of long shifts and learning about the different health checks that are needed. 
So, when you finished nursing school, it probably never occurred to you to train as the nurse who was helping you through the entire process – the nurse educator or trainer.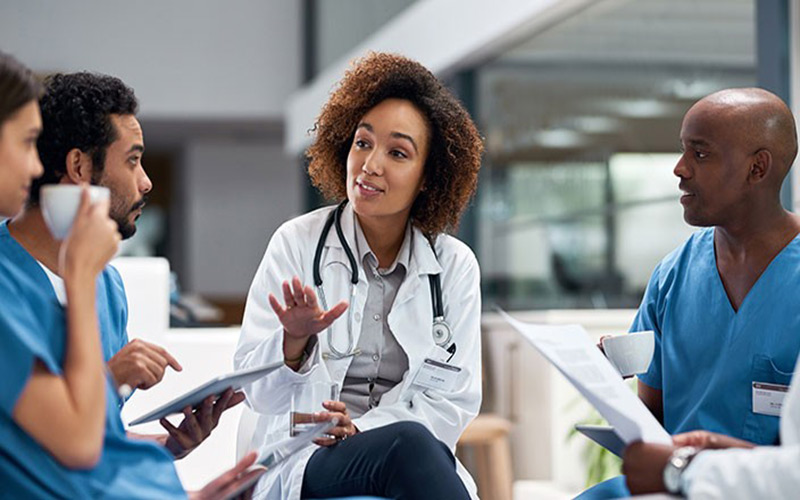 But when you have been on the ward for many years and are feeling tired and burned out, the idea of training as a nurse educator may begin to sound more and more appealing. And you would be in good company, as the need for nurse educators is going up, on par with the need for registered nurses. Indeed, many nursing colleges and universities are so short-staffed of nurse trainers or educators that should you train in this role, you will likely see your responsibilities (and paycheck) skyrocket. Great!
With that in mind, before you rush off to book yourself onto the additional training that is required, there are some things you will need to know about this role. In this article, you will be briefly guided through the training required to become a nurse educator and what the role itself entails.
What Is a Nurse Educator?
A nurse educator is, in essence, the name given to the individual who usually works at a university and trains other nurses in what is required to not only pass the exam but to survive in the world of clinical nursing. 
Most nurse educators will have completed a nurse educator degree online, usually while also continuing to work in clinical practice, and will have had to also undertake teaching qualifications. 
What Qualifications Will You Need?
If you want to become a nurse educator, you will need to be a registered nurse in the state where you work. If you are intending to move to complete your training, you will likely need to sit other exams to ensure you are up to the state standard.
So, you will need to have a BSc in nursing, and you will need to have clinical experience to become a nurse educator. The more experience you have, the more likely it is that you will be accepted onto the course. The nurse educator course itself is similar to an MSc and is usually 1-2 years long.
Things You Need to Know About Being a Nurse Educator
When you have completed the qualification (well done!), what does the role of a nurse educator involve?
Teaching Opportunities
The first thing is that the teaching role will be more hands-on than a nurse educator position. You will usually be working at a university or training college while also overseeing your clinical role. 
In fact, this is one of the key reasons why so many people train as nurse educators; they love to teach patients and other nurses. So, if that sounds like you, you will love this aspect of the job.
Nursing and Teaching Are Similar
When you worked as a nurse on a ward in a clinic, a lot of your role would have been based on relational aspects. That is, when a patient came in with a condition like ankylosing spondylitis, you would have needed to empathize and relate to them, even if you didn't suffer from it. This is the same in teaching; if your ability to relate to other people is low, then this may not be the role for you, as you will need to empathize with those you are teaching and the patients under your care. 
There Is Systemic Influence
The core difference between being a registered nurse and a nurse educator is that when you are a nurse educator, you can put the insight gained on the ward to practical use. 
You will influence the next generation of nurses and will be called upon to give your insight into areas such as clinical care, what is on the curriculum for nurses, and even what is tested in the practical exams. So, if you have always been fed up with something you have seen as standard practice on wards, becoming a nurse educator can help to give you a voice.
There Are Different Roles
The emphasis in this article has been that becoming a nurse educator will mean switching the ward to the classroom. In some ways, this is accurate, and in other ways, it isn't.
You could turn your MSc as a nurse educator into one that leads you to become the head of a department at a hospital, which is ideal if you are looking to train in a more specialized field, such as pediatric nursing. Or, as mentioned before, you can turn your attention to the teaching aspect and get involved in the grading systems of exams.
You Need to Know More About Nursing
It's in the title; a nurse educator is someone who educates nurses. Ergo, when you opt to train as one, you will need to be confident in your ability to not only practice nursing but also to teach it. You must learn about educational theory and be up to date on what is required in the nursing exams. It is worth noting that even though you may love teaching on the ward, you may not be cut out for doing so in a classroom.
It Can Be More Flexible
Many nurses who work in a hospital become tired and burned out due to the 12-hour shifts. Teaching, on the other hand, offers a more regular schedule, helping you to better balance your work and your life. It also doesn't involve night shifts, so you will be better rested during the day and won't have to mess up your circadian rhythm.
Many nurse educators are also able to balance this role 50/50 with that of clinical practice, so if you want to stay on the wards, you don't have to leave them behind and can still enjoy working with clinical patients. 
Follow – https://shiftkiya.com for More Updates