Ethnic clothing is a blessing for people who like to experiment with their look. It is a combination of modern and traditional style statements. The kurti is an ideal garment for women who want to leave an impression with their style.
The main objective of the kurti is to allow free movements of the limbs. Unlike traditional suits, the kurti doesn't require a dupatta to be carried at all times. There is a wide variety of short and long kurti designs which you can buy offline as well as from online platforms.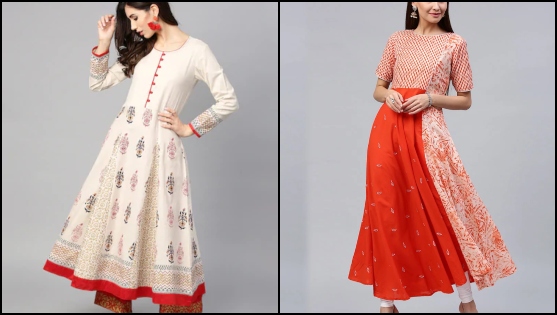 Before you select a kurti design for yourself, go through this article to gather information about different kinds of silhouettes and cuts. This article brings to you some evergreen kurti styles. Let's jump right into it.
A Line Style: This is one of that casual kurtis which you can team up with leggings, jeggings, and jeans as well. The portion below the waistline has flares which are reminiscent of the alphabet "A". This kurti has a quarter length sleeves and the neck design is also minimalistic. The kurti flows till the knees and you can wear white or black leggings with it. The A line kurti is minimalist yet elegant. Club it with flats and chandbali jhumkas and you are ready to hit the office in style.
Angrakha Style: This is indeed the most sought after kurti design. This long kurti is a bit differently designed. It is worn like any other kurti but the only difference is that it has a flap in the front which sticks to the side with the help of a Dori. In other words, you can say that it has a Bathrobe style design. This kurti has been sported by a large majority of Bollywood divas like Deepika Padukone, Alia Bhatt, Aishwarya Rai Bachchan and so on.
Trail Style: The hemline of this kurti is cut in C-shape which is the main selling point of this kurti. When buying the trail style kurti, you must be very careful of the fabric. Go for lightweight fabrics like cotton, silk, crepe, chiffon and so on. Heavier fabrics kill the whole look and vibe of this kurti. The sleeves are 3/4th in length and the neck design is round. Team this with a churidar and pencil heels.
Anarkali Style: The Anarkali kurtis are a perfect choice for wearing to parties, office, family functions, and college fests and so on. The Anarkali flows till the knees but it doesn't feel bulky at any point. High heels and silver oxidized jewelry look pretty chic with this kind of kurti.
Flared Style: It is an iteration of the Anarkali style kurti. The kurti has a flared design from beneath the waistline. The hemline on this one is strategically asymmetric which definitely catches some eyes. Pick this up for wearing on casual and special occasions. Complete the look by pairing it with flats and leggings.
Tunic Style: This is a short kurti design and therefore these are perfect for wearing with pants, trousers, and jeans. The tunic style kurti flows just below the waistline. Whenever buying this style of kurti, make sure that the fabric used is lightweight. Kolhapuri chappals, bellies, and Afghani earrings look pretty chic with tunic style kurti.
These were some of the most sought after kurti styles these days. Definitely feel free to explore more options. Just make sure you pick the right fabric and size. Going wrong on these two parameters can utterly destroy the whole look and feel of the kurti. Hope you find this article useful.