Sana Safinaz has been designing exclusive formalwear bridal runway fashion collections for decades. After their immense success with Lawn summer 3-piece suiting in unstitched designs, they now have two streamlined winter collections they release yearly. They are two expert female designers that update their fashion philosophy with inspirations from world culture, their own environment, culture, history and architecture. Their unique perspective on fashion is for the modern independent Pakistani woman looking to wear a fusion of eastern and western fashion trends.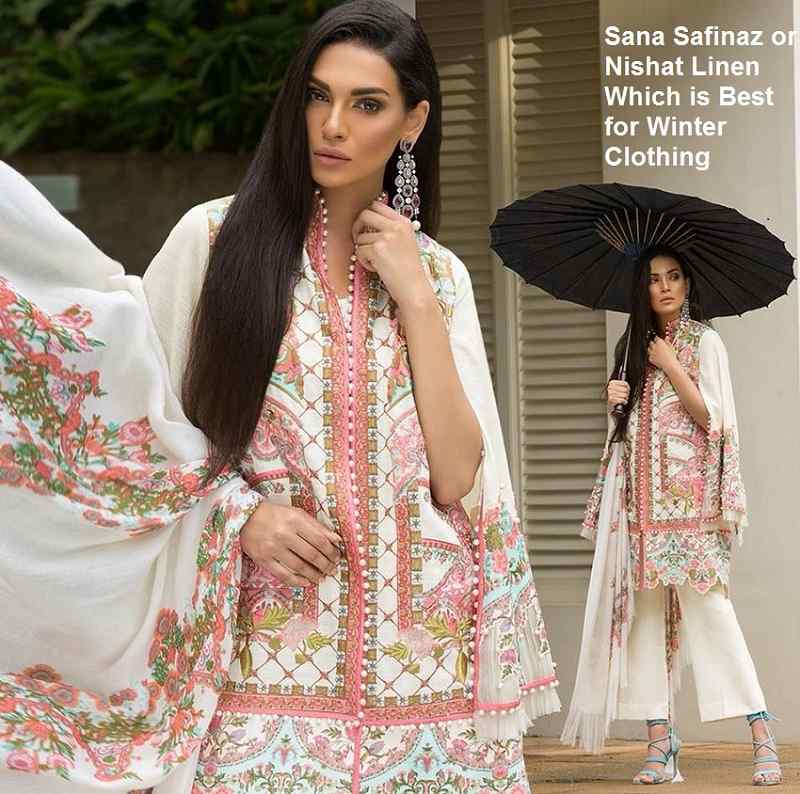 The unstitched 3-piece suit can be bought under their limited edition Winter Shawl collection that has intricate traditional embroidery on front or back slub base cloth pieces with printed sleeves, a matching dyed trouser and added borders. The Winter Shawl collection has Devore velvet shawl that is a "cutwork" technique instantly transforming the outfit into a party or semi-formal suit.
Muzlin Winter collection by Sana Safinaz is tailored for the temperate climate of southern Pakistan, released in two volumes they are primarily digital prints that do not include the signature fully packed embroidered panel of the Winter Shawl collection. The Muzlin Winter will only have an embroidered neckline piece that can be appliqued onto the suit enhancing the overall look of the 3-piece suit. 
The popular Ready to Wear collections are The Basic and Embroidered Essentials that cover a range of single shirts styles from primary colours, monochromes to embellishments, colourful and ethnic designs to wear professionally and easily dressed up to wear on a night out. The selection of plain black, white and beige lowers help women create a hassle-free ready-made outfit sets. They have shalwars, straight pants and tights that can easily be paired with any formal to casual shirt designs. 
Muzlin Luxury are heavily embroidered formal winter clothes with thick fancy borders on organza fabric. They have the signature embroidered neckline and luxurious woven net dupatta. For those ladies who want to save time and energy looking for wedding wear and formal clothes, the Muzlin Luxury has a higher price point compared to their other winter collections as it is worn in Fall and Spring season. 
Nishat Lenin is not run by a single fashion designer instead they focus on the quality of their fabrics and highly customizable "Freedom to Buy" model for creating the perfect 3-piece suit. Unlike Sana Safinaz they do not sell limited cloth in their unstitched 3-piece suit instead they allow their customers to buy meter per square metric. They have various winter fabrics as compared to the limited selection of Sana Safinaz. Nishat has Sateen, Khaddar and Linen with numerous designs for each category of warm fabric. You can check out their latest collection as they are rapidly expanding into a lifestyle store that caters to women, men, children and provides home essentials such as bed linen, towels and pillow covers. 
The fashion philosophy of Nishat Linen is not comparable to the decades of designing the abilities of Sana Safinaz. but that does not undermine the value Nishat provides to women looking for designer quality loose cloth to stitch their clothes. Their safe and predictable designs are worn more often because of their simplicity and no fussy embroidery pieces. It is ideal for women who are not interested in fashion runway trends or for those who do not wish to wait several months for the next collections.