Credit cards are useful for making offline as well as online payments. Today, online payment using credit cards is becoming a trend. People are gaining awareness of the benefits of online payment using credit cards. Online payment has its benefits. The primary advantage is that the payment is almost instantaneous.
The Fintech revolution ensures that immediate transfer of funds. It has prompted more people to adapt to this mode of payment. Banks and credit card issuers also play a vital role in increasing the awareness quotient among people. Online payment using credit cards entitle you to get exciting rewards and offers. Let us explore this segment in detail.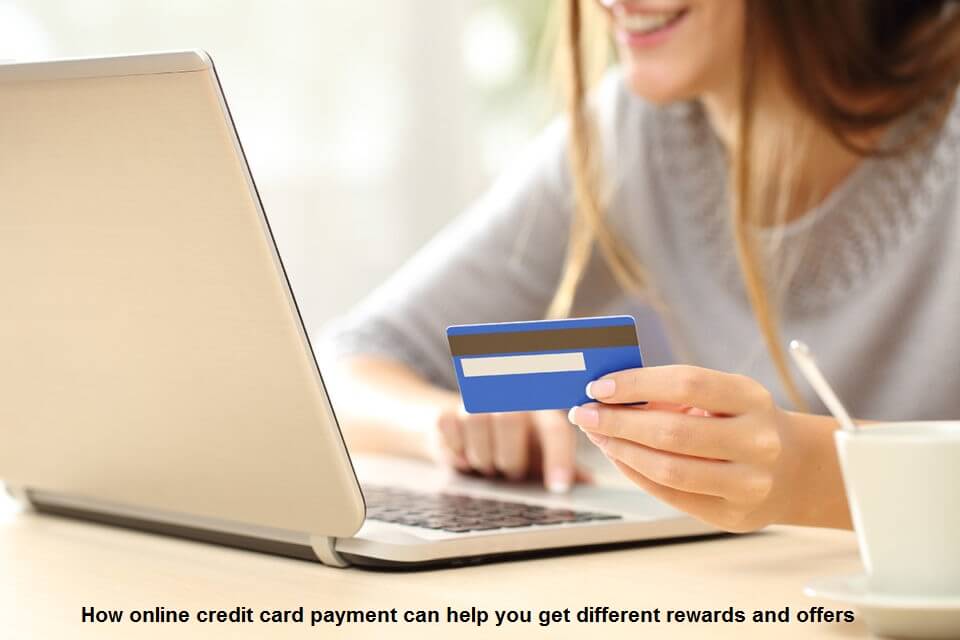 Different rewards and offers
We shall start with the rewards that you earn while applying for these cards before moving on to discuss the various discounts and cashback offers available on online purchases.
Introductory Offers
The high level of competition in the credit card industry has prompted banks and credit card issuers to come up with exciting introductory offers. Some of the rewards are as under.
Get bonus points for applying for a credit card online
Spend up to a particular amount within a specific period of 30 to 90 days to get additional reward points.
Get waivers off annual fees when you spend up to a particular amount annually.
Introductory offers also include 0% APR on balance transfer or initial spending for a specific period
Rewards when using credit cards online
Credit cards provide the most convenient mode of payment online. Banks have come up with innovative products like cash back credit cards that offer immediate cashback amounts on every transaction. Such amounts are useful for paying your credit card bills as well. You can also use the cashback amounts for paying various credit card fees like annual or renewal fee, and so on.
The best aspect of these reward points is that they are available on almost all purchases. You do not get these points for using the cash withdrawal facility or balance transfer facilities.
Paying your utility bills online such as telephone bill, electricity bill, and so on also enables you to get exciting cash back directly into your bank account.
Cashback offers on recharging e-wallets
The current trend is of using mobile e-wallets for payment. There are many such e-wallets such as PayTM, G-Pay, Phone Pe, Amazon Pay, and so on. You can use your credit card to recharge these wallets and make payment through them. It entitles you to various incentives like cash back and discounts. The rules do not permit you to transfer the cash back amounts to your bank account, but you can use it for making payment for future purchases, mobile and DTH recharges, and other utility bill payments. Today, even petrol pumps and retailers accept payment through e-wallets.
Discount offers on purchasing online
E-retailers like Amazon and Flipkart have collaborated with some of the top-rated credit card issuers whereby such credit cardholders get attractive discounts on using the specific credit cards for making purchases online through these e-retailers. These discounts are available on your immediate purchases. They are usually in addition to the cashback offers that you get through these e-retailers.
Gen X attractions
People belonging to Gen X and the millennial generation show greater awareness about online payments as compared to the earlier generations. These generations love to use the online route more often than the others do. They form the majority of users of travel and food apps. Today, you have facilities for ordering cabs from almost anywhere.
Similarly, you can book restaurant tables online and make payment using specific mobile apps. You can also order food online. Using your credit cards for such purposes entitles you to rewards such as discount offers on restaurants, free entry to amusement parks and malls, free cinema tickets, and so on.
Air miles and Travel discounts
You have credit cards from issuers like HSBC, Citi Bank, SBI, and others that allow you to accumulate air miles on the expenses you incur for booking flight tickets using these credit cards. Some of these cards come with innovative features like free economy class air tickets on applying for these cards online. You can redeem the air miles to get free tickets or discounts on your future bookings. Such cards also allow you the facility to book hotel rooms online at select hotels in India as well as at international locations.
Points to note
The critical point to note is that you should maintain an impeccable repayment record. Paying the credit card bills on time without any default allows you to enjoy the privileges of these reward points.
Redeeming the reward points is easy. You have to log in at the specific website to claim the rewards. You can redeem these points for exciting gifts and have them delivered at your home.
Final words
Making online credit card payments  is beneficial in many ways. They offer you utmost convenience and ensure that the payment is immediate. Besides, you get exciting rewards. You do not get such rewards and benefits if you pay using cash or any other means of payment.