Are you losing confidence in communication and life just due to ugly blemishes caused by injuries, chickenpox or acne? But do not worry, if these blemishes are treated properly, they will go away completely, giving you the bright and smooth skin. Among a lot of remedies, using natural ingredients to remove blemishes is still the top choice because they are not only cheap, easy to use but also very safe for your skin. Mentioning to how to get rid of blemishes, here are top 12 effective home remedies that you can easily apply at home.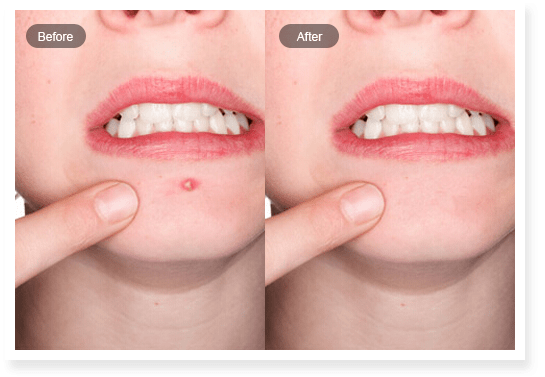 Some Useful Tips:-
Natural Ways To Improve Blood Circulation
How Long Does Strep Throat Last Without Antibiotics
Some Tips On How to Get Rid of Dry Mouth
Top Natural Home Remedies for Gingivitis
What is blemish?
Blemishes are the aftermath of the self-healing of skin cells left by wounds. They appear when dermis (the second layer of skin) or deeper layer is destroyed; the body will form new collagen fibers to replace this injured skin areas. This process in each person is different.
Because when your skin damaged, the collagen and elastic fibers are also hurt, all wounds are at risk of scarring and blemish. If they are not treated properly, the color of this skin area will become darker; fibroblasts have been destroyed, affecting the regeneration of the new collagen and elastic fibers.
It is estimated that the average time taken for creating new skin cells naturally to fade the scars is about 4 – 6 months. It can be better or worse depending a lot on your living habits so let's get rid of the bad habits of eating fast foods, squeezing acne regularly, etc.
How to get rid of blemishes
Besides laser treatments that are very expensive, you absolutely can use natural ingredients to remove the ugly blemishes, for example, cucumber, honey, lemon, etc.
1. Drink more water
Drinking a lot of water will help you purify the body, regenerate your skin as well as remove dead skin cells and black marks. Water also has the effect of improving the circulation of blood vessels, thereby nourishing and promoting restoration of the damaged epidermis. You should drink at least 1 – 2 liters of water each day.
2. Cucumber
Perhaps cucumber is the too familiar natural skin care treatment of many people. All things you need to do is cutting cucumber into thin slices and applying them to the injured skin areas. Apply this method continuously for one week, which help you get desirable results.
3. Climbing rose oil
This type of oil is often widely used at beauty salons for different purposes, one of the best effects of which is blurring the blemishes quickly. About how to get rid of blemishes by the climbing rose oil, it is also very simple; you only need to apply a small amount of oil to your skin and gently massage for about 15 minutes. Repeat two times per day.
4. Lemon juice
Lemon juice acts as a natural whitening agent, so it is quite effective in treating blemishes. However, you also should not overuse because the citric acid contained in lemon juice can cause some unexpected side effects on your skin.
5. Vitamin C
Vitamin C or foods rich in vitamin C can promote blood clotting in the body which plays an important role in healing the injuries and removing blemishes. To get the highest result, you should only use the creams made with natural ingredients or eat a diet rich in vitamin C.
6. Vitamin E
Vitamin E is one of the most effective remedies for blemishes caused by acne. You can apply pure vitamin E to the acne scars 3 – 4 times per day within a week, and then all blemishes will quickly go away.
7. Fresh milk
Washing your face with fresh milk every day is also the great way to treat the ugly blemishes. Lactic acid in milk not only helps remove the scars but also lighten and brighten the skin. Besides this method, you also can mix fresh milk with oatmeal and a few drops of lemon juice, then apply this mixture to your face for 30 minutes and rinse with warm water.
8. Ginger
Ginger can prevent the skin aging process as well as weaken the growth of blemishes. Put the slices of fresh ginger on the injured skin areas for several minutes. Repeat 3 times a day, after two weeks, the blemishes will be blurred, and your skin will be softer and whiter.
9. Honey facial mask
Honey has the great effect on regenerating and renewing cells, helping restore the damaged skin area. You can apply directly honey to your face for 10 – 15 minutes, at least twice a week or mix honey with lemon juice to create a masking mixture. Here is how to get rid of blemishes by using the honey facial mask:
Mix 2 teaspoons of honey and ½ teaspoon of fresh lemon juice
Rinse your face and apply this mixture to your face for 20 minutes. Apply twice a week.
10. Aloe Vera
The gel of Aloe Vera is a great remedy for treating blemishes caused by acne. Cut the aloe vera leaves into thin slices and apply them directly to your face, then rinse with warm water. Aloe Vera not only has the effect of removing blemishes but also help whiten the skin.
11. Pineapple and lemon mask
These are two types of fruit containing a large amount of citric acid (an AHA form), which can promote the regeneration of the epidermis. Besides the effect of whitening the skin, pineapple and lemon are also the great remedies for scars and blemishes. Mix a little bit pineapple pulp with ½ teaspoon of lemon juice and apply it to your skin. Leave for 10 – 15 minutes and then rinse with warm water. You also should drink pineapple and lemon juice daily to get the best result.
12. Apple Cider Vinegar
Apple cider vinegar helps balance the pH of your skin, thereby improving acne blemishes effectively. You only need to dilute apple cider vinegar with water in a ratio of 1:1. Then, use a cotton pad absorbing this mixture and wipe on your skin until they are blurred.
The above are 12 best home remedies to deal with the question "how to get rid of blemishes" that we would like to introduce to you. Hopefully, with these methods, the ugly blemishes will quickly go away, giving you a soft, bright, smooth and healthy skin.
Reference:
https://authorityremedies.com/how-to-get-rid-of-blemishes