Gone are the days when cybercriminals mainly targeted laptop and desktop computers. Today, cybercriminals focus on smartphones and tablets—so much so that according to an IDG report, 74% of IT leaders from global organizations noted that their enterprise had suffered a security breach resulting from a mobile device.
That is hardly a surprise, especially when you consider that consumers are increasingly using their phones for core functions such as online purchases, banking, email access, and social media. However, that raises a key concern, how does one protect their phone from malicious people?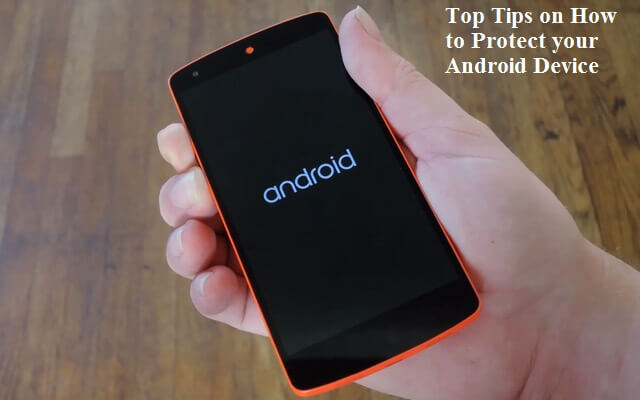 If you happen to have an Android device, here are some top tips that will help secure your device.
1. Purchase smartphones from vendors who are quick to release Android patches
A good number of consumers worldwide use Android devices, and as a result, Android is constantly under attack. Older Android versions, in particular, tend to be more vulnerable largely because Android addresses any newly discovered threat in new security patches.
Therefore, when purchasing a phone, find one which gets the newest security update as soon as it is released. At the top of that lists are Google smartphones, most notably, Nexus 5X, 6P, Pixel, and Pixel 2.
When it comes to other vendors, according to Android Authority, those which are good at keeping their phones up to date (from worst to best) include Samsung, OnePlus, Xiaomi, Sony, HTC, Motorola and LG.
2. Aim to use apps from Google Play Store
A 2018 Symantec report found that third-party app stores accounted for 99% of all newly discovered malware. While it is not a guarantee that all apps on the Play Store are secure, Google is continually implementing measures to ensure the Play Store is as safe as possible.
Moreover, Google Play Protect can scan your newly installed app for malware as long as you have enabled the setting. Go to Settings, click on Security, and finally select Play Protect.
3. Subscribe to a Virtual Private Network (VPN)
Anytime you are on the move; whether it is a dash to the local coffee spot or a business trip to a remote office in India, you will want to use public Wi-Fi to access among other things your social media accounts and your email.
Unfortunately, public connections, while convenient, are insecure. A hacker connected to the same network can eavesdrop on what you are doing, they can get behind your firewall, and more importantly, they can easily steal sensitive information.
To protect yourself, consider that a VPN is hugely useful on Android. A VPN hides your traffic behind an encrypted tunnel, and consequently, it does not matter how unsafe a connection is, because anything you do inside the encrypted channel is safe from hackers.
4. Enable two-factor authentication (2FA)
2FA is an extra security measure that requires not only a pin or password but also verification via a device or an account that the user has access.
To enable two-factor authentication, log in to your Google account, navigate to the settings page, and find the two-step verification option. Select the option and follow the resulting prompts.
Eventually, the prompts will ask for your phone number so that Google can send verification codes to your phone anytime you log in to your account. Once you submit your phone number, choose whether you prefer receiving the verification codes via text or phone call.
Last word
In addition to the four main tips discussed above, there are other simple tips you should observe such as locking your phone with a pin or pattern, using antivirus software, always switching off your connections (such as Bluetooth) when you are not using them and using password management.
Keeping all these tips in mind will help ensure your Android device is safe.