When working at height, you must take appropriate measures to ensure the safety of yourself and of those around you.
If you take the proper precautions, then you will significantly lower your risk of injury.
Railing
Having proper safety railing is one of the most important things you can do to keep yourself safe when you're working at height.
It's easy to misjudge a step or lose your balance, and having a safety railing ensures that you won't go over the edge if that happens.
Railing is also a great safety measure because there is no training involved to use it, unlike harnesses and other types of specialist equipment. This means that railings will keep anyone safe, even those who are new to the job.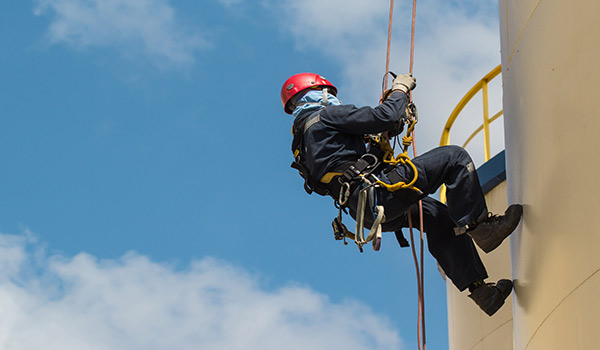 OSHA recommends that railings for stairways should have no less than 30 inches and no more than 38 inches between the top of the stair and the top of the hand rail.
PPE
Depending on what work you are doing, it might be necessary to invest in some PPE to keep yourself and your team safe. It's important that you properly research the PPE that is right for your job.
If you are working at height, then harnesses are important as they will keep you secure as you carry out your work. It's also important that you select the right material for your harness. For example, if you're going to be welding, then you need to ensure that your harness is made from a material that can withstand high temperatures. Comfort is also a consideration.
Once you have your harnesses, ensure that they are regularly inspected for any tears or other damage, as damaged equipment will not keep you safe.
Roof safety matting
Safety matting is important when you're working on rooftops. Roofs are exposed to the elements like the wind and the rain, and this can leave the surface wet and slippery. Matting ensures that you can still get a good grip on the surface of the roof.
For more information on safety matting and other specialized equipment for working at height, check out oxfordsafety.co.uk
Use ladders safely
Training is one of the most important parts of staying safe at work, and training for working safely with ladders is especially important as the consequences can be serious otherwise.
Some general points for working safely with ladders are:
Do not use a ladder in high winds or wet conditions.
Before using your ladder, always inspect for damage.
Don't carry anything up and down the ladder with you.
Only allow one person on a ladder at a time.
If you are working near power lines, never use a metal ladder.
Do not use a ladder in front of a door. If you absolutely have to, ensure that it is locked or blocked or that someone is keeping people away. Otherwise, someone could open the door and knock you off.
There will also be specific safety instructions depending on the make of the ladder you use. It is essential that you fully read and understand these before starting work.
Clear hazards
Make a point of keeping your work area clean and clear of hazards. Always put away tools and other equipment once you have finished with them, and immediately clean up any spillages. This minimizes the risk of someone tripping or slipping due to an unexpected item being in their path.