Injection molding is a manufacturing process in which molten materials are injected into a cast to make desired objects. This is a widely-used industrial manufacturing process that caters to a vast majority of industries. From plastic trinkets to high-value automotive parts, injection molding technique is used in numerous products. Injection molding is a quite simple process that can mass produce objects in a short amount of time and therefore, the injection molding market is making its mark on almost every industry. Regardless of the process, the key to fast and innovative injection molding is the molding machine itself. Various technological innovations in the field of injection molding have allowed the use of a variety of raw materials other than rubber and different types of plastic. Different types of metals such as various types of steel, aluminum, lithium, tin, etc. are used in the manufacturing of assortment of products.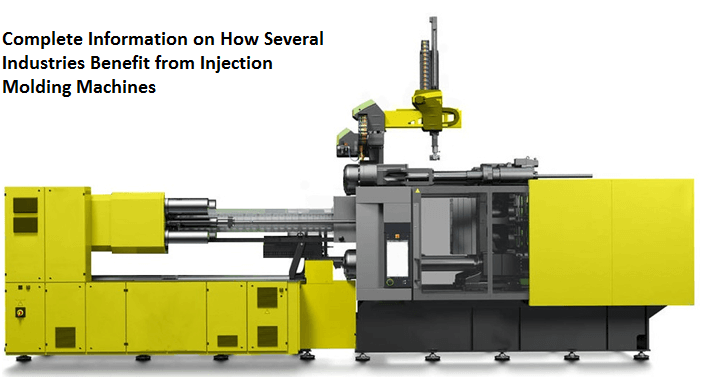 The global injection molding machine market is growing alongside industries that require mass produced products manufactured by the same technique. According to the global injection molding market research, the market is growing with a Compound Annual Growth Rate (CAGR) of 2.20 percent and it is likely to touch a global market value of $4.86 billion by 2021. The automotive industry holds the largest market share of 30.5 percent in the global injection molding machine market in terms of the end-user segment. The consumer goods segment holds the second largest market share of 22.5 percent in the end-user segment. A major growth driver for the injection molding industry is the APAC region in which industrial developments are on the rise in growing economies such as India, China, and Japan.
How Industries Benefit from Injection Molding:
Injection molding machines can mass produce high-quality products that are affordable both for the industries and end users. In addition, plastic injection molding has defined itself as an industry that never goes out of demand. Plastic products manufactured through technology cater to industries such as automotive products, medical-use products, pharmaceutical products, packaging products, everyday consumer products, and more.
Here is a look at how injection molding is benefitting other industries.
Food and Beverage (F&B) Industry: This can be considered as one of the largest end-user segments among the industries across the globe. The F&B industry has several avenues and the demand in this industry is always rising. Growing global population, changing marketing trends, increasing consumer awareness are the major factors for such high demand. Here, injection molded plastic products are required for packaging processes. Injection molding has made packaging cheaper, faster and more hygenic for the F&B industry. In addition, manufacturing products that are personalized, complex, safe, and easy to use in a short amount is only possible with injection molding.
Shoe Manufacturing: The top material of shoes is usually made up of leather, fabric, polymers or all of those but the sole of almost every shoe is created through injection molding. Not just smaller brands but global shoe brands such as Nike, FILA, and Adidas use injection molding in manufacturing shoe soles. Even military grade shoes use injection molding for creating shoe soles. This is again due to the reliable injection molding technology that can produce thousands of products in a matter of weeks while maintaining uniformity and keeping the process error-free.
Window and Door Parts: This is another multifaceted industry similar to the F&B industry. Although windows and doors are majorly manufactured with metal and wood, additional components such as latches, hinges, door stoppers, and many other parts are manufactured through injection molding process. All of these parts require extreme precision in the manufacturing process and injection molding completely ensures that. Since injection molding uses precisely created casts, there is no ambiguity involved and all the products are exact replicas of each other.
Medical and Pharmaceuticals: The majority of end-use products in the medical and pharmaceutical industries are disposable and injection molded plastic products are the best options in this scenario. Millions of injection syringes, transfusion bags, medicine sachets and strips are manufactured and used every day on a global level. Medical-grade equipment and products have strict manufacturing regulations regarding the raw materials and look and feel of the product such as ergonomic design, transparent containers, etc. This would not have been possible without injection molding machines.
Automotive Industry: Automotive parts, Original Equipment Manufacturer (OEM) parts, and high-value body parts such as various types of panels, rims, plastic parts, etc. all are manufactured through an injection molding process. The reasons for such high use of injection molding process in automotive parts manufacturing are added advantages such as production efficiency, increased durability of the end-products, and affordability. Injection molding can easily incorporate specific materials to the main raw material to enhance the durability of the products. All of this can be achieved without skyrocketing the production costs and maintaining efficiency in the overall processes.
Injection molding has become a necessity for manufacturers to keep up with the competition and maintain efficiency in their production processes. The cost-effectiveness offered by injection molding machines is unmatched and certain latest innovation such as reduced weight of the machines, increased production speeds, and added safety measures have made these the most favored manufacturing option for the industries across the globe.