Relationships, college, social media, career, and travel – five ingredients fix that cook up an incredibly appetizing millennial life. Millennial you ask; are teenagers, young adults, and people who are on the left side of their thirties. But how can a group of people so vibrant and chill, and of course, addicted to technology, be interested in something like Horoscope and Astrology  Prediction? Well, there can be millions of reasons, for one, Astrology gives you a peek into what's future has on offer for you and your partner. As to how long your relationship can go; can you trust your bae around other people; or if the guy/girl you're dating is actually your soulmate? But let's not go too far and first understand what is the basic idea behind the introduction of Astrology into our daily lives.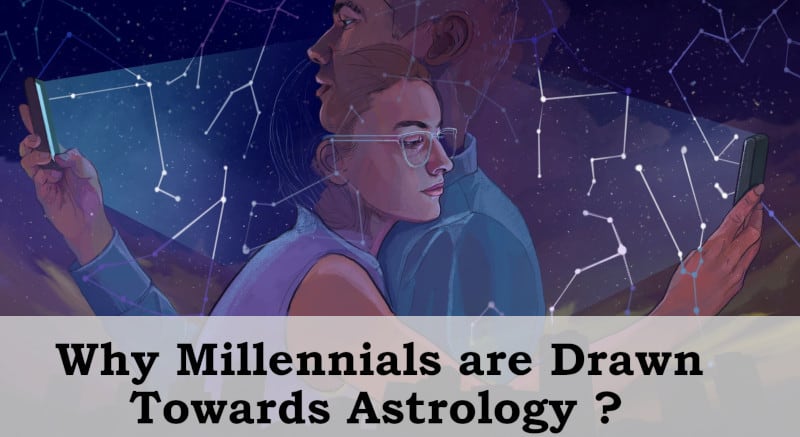 What Actually is Astrology?
Is it a science, is it an Idea, or it's a massive illusion to fool people.
A man's fascination with the infinite night sky and the countless sparkling gems that embellish the endless expanse is as old as the time itself. And this obsession to explore the distant frontiers of the universe let to the discovery of magnificence known by the name of Astrology. Technically, it's a science, that explains the influence of planetary bodies like stars, planets, and moons on daily human lives. But it's much more than that, it's phenomenal implications has made it a go to option for billions of people who seek answers to practical life problems and desperately need guidance.
Horoscope on the other hand, is just an offshoot of Astrology that is often referred by 'Zodiac signs.' Signs that represent the twelve distinct constellations in the solar system. Each with a different shape, definition, characteristics and meaning to it.
These signs provide insights into aspects such as health, career, finance, love, education, etc. which makes life a lot easier.
So Astrology is like a chaperone, so to speak. It can guide you through life and ring you the warning bell of anything unpleasant that is headed your way. But science is communicative anyway, it brings us closer to the reality and at the same time makes us wonder about the very existence of life. There is nothing new. But how is it that Astrology stands out from the rest? Why is it so highly regarded? And, finally what is it that makes it so popular amongst youth?
Keep reading further….
What is It That Makes Astrology so Cool?  
Astrology is a terrific study with outstanding practical advantages, but for most people, that's not convincing enough. Like a smartphone, everything apparently needs to have a USP, per se, to gain recognition amongst people. Astrology being no different had to prove it's worth to get the kind of appreciation, that it has right now.
Now, instead of digging into technicalities, here are some astonishing facts about Astrology that you makes it so popular amongst Millennials:
Astrology and Horoscope, are responsible for the way you look, and it's not a baseless swank, but a researched factoid. If anything millennials are most concerned these days is about their appearance. So you see how Astrology is a great source of help in that matter.
Every 2 out of five people in the United States of America believe in Astrology. And to add to your surprise, even a few presidents were hooked to this so called study of divination.
One of the most fascinating things about Astrology is its accuracy regarding romance and relationships. Zodiac compatibility in particular is one such aspect. It tells about the odds of a relationship making it to the the very end. A recent study showed that 91% of the relationships that succeed are astrologically compatible.
Your zodiac sign can actually change twice or thrice in a lifetime. As surprising as it may sound but it's true. Due to phenomena known as wobbling, Earth's position can change and so can be the corresponding constellation that you thought was your zodiac sign.
Astrology predictions are never wrong. If not completely, at least some part of it always materializes.
Why Millenials Find Astrology so Helpful?
As mentioned, there is much more to Astrology than just stars and planets. As a matter fact that millennials these days live a life as multidimensional as it is, it is only fair to say they need a support system to survive. Since relationships based on human emotions are merely respected these days, Astrology is the only thing that comes to mind which help young people get through this complicated and demanding lifestyle.
Predictions based on natural planetary positions and zodiac trends, seem to give young turks a head start in almost every aspect of their life. This way they can keep themselves ready for circumstances that might unfold eventually and make their way to success and prosperity. Astrology is like a trustworthy and wonderful friend to millennials and that's why they are so into it.