Starting a home business will give you more freedom over your work schedule and help you achieve a better work to life balance. You will also have the opportunity to make money doing something that you enjoy and feel passionate about. The best part is, starting a business at home has never been easier, thanks to modern technology and the internet. Here are three home businesses you can start today: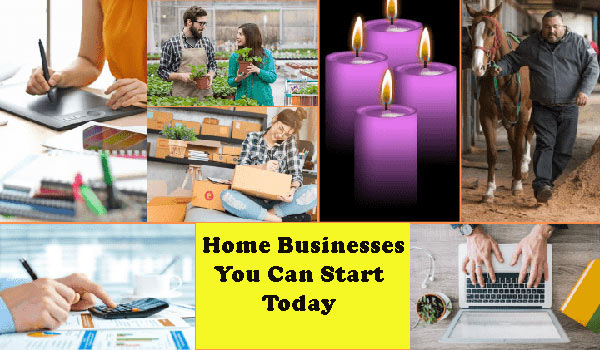 1. Sell baked goods
If you enjoy baking, then starting a home bakery will give you the chance to make money doing something that you love. If you bake regularly, then you are also likely to have all of the equipment and tools that you will need. This will help keep the startup costs of launching a home bakery low. You have the option to sell a selection of baked goods such as brownies, cakes, or homemade bread. Or, you can offer a specialty service such as personalized graduation cookies or birthday brownies. Specializing in one or two baked treats can help your bakery stand out and demonstrate your quality service. It will also make your job easier, especially when you start your business. Selling baked goods can be a fun way to make extra money, and it can turn into a full-time business once you build your bakery's reputation. That said, most food and catering businesses have to comply with various health and safety regulations. Make sure you check what regulations apply and take out insurance to protect your business and assets.
2. Advertise crafts online
Crafts are all the rage right now, and you can earn good money from selling unique handmade items online. According to fabulesslyfrugal.com, "the best-selling crafts to make include personalized pet tags, jewelry, bath bombs, and candles". You can easily turn your creative hobby into a money-making business and make a living selling your crafts online. There is now an excellent variety of selling platforms where you can advertise and sell crafts. This includes Etsy, eBay, and local selling platforms like Facebook Market. You can also sell homemade items at local markets and crafts fares. If you are selling crafts online, then make sure that you invest in a good camera so that you can post high-quality photos of your crafts. Make sure that you also write a detailed and accurate description of anything you are selling online.
3. Open a daycare center
If you love children, then starting a daycare center could be an enjoyable way to make money from home. Quality child care is in high demand, and daycare centers can be profitable businesses. If you are considering opening a home-based daycare center, then make sure that you think carefully about how many children you can accommodate, what hours you want to work, and so on. You will also need to check what regulations and laws apply in your local area and apply for the relevant certifications and insurance. Take a look at this guide for detailed advice on how to start a home-based daycare business.