Both men and women love wearing jewelry. When it comes to jewelry, dresses and fashion accessories, there is no match for options available to women. If you are looking for a chic fashion accessory for your wrist then you can buy women bracelets. An empty wrist never looks cool. You cannot wear watches on both wrists. This is the reason why a bracelet is the top pick of a girl looking for something for her wrist. When you are looking for women bracelet online, keep in mind that there are different types of bracelets. A bracelet suitable for a specific occasion may look out of style if you are wearing it with a wrong outfit on a wrong occasion. Being aware of different types of this ornament can help you in shopping the one that can look chic on your wrist.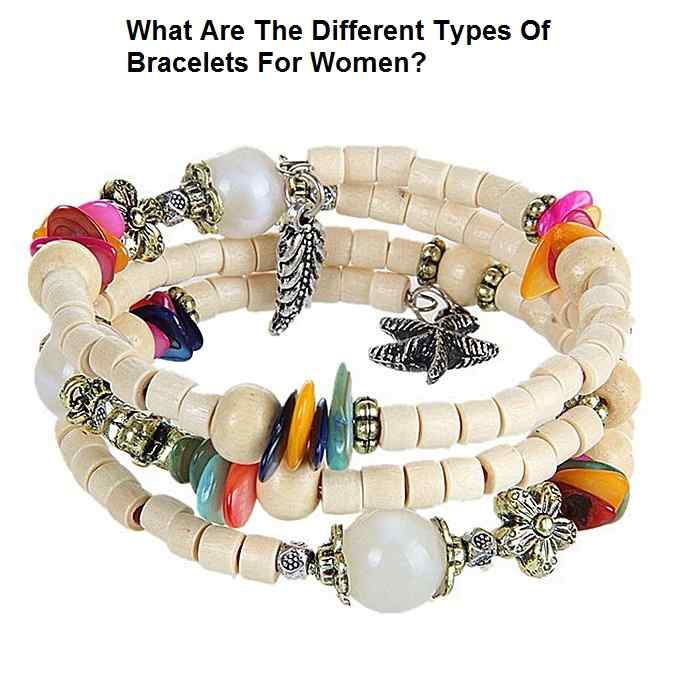 Different Types Of Women Bracelet
Cuff Bracelet
A cuff bracelet is very similar to a bangle bracelet. Bangles are very popular in the Indian subcontinent. It is a ring ending up 1/3rd on the wrist. A cuff bracelet is open at the end. It is not flexible like other bracelets. It just firmly sits on your wrist. Women have been wearing this bracelet from the times of Cleopatra. Even royals love wearing cuff bracelets.
Bangle Bracelet
Bangle bracelets are popular among women of all ages living in the US, Canada, Australia or anywhere in the world. You can wear these bracelets in multiples. A bangle bracelet is just like a ring without any opening. Some bracelets of this type have a normal tongue clasp. Bangle bracelets are very versatile. You wear a combination of different colors and materials.
Leather Bracelet
In case you don't like wearing a metal around your wrist, a leather bracelet is a great option available to you. A leather bracelet is just like a cuff bracelet made of leather. These bracelets are popular among youth, especially young boys. However, young girls too love wearing leather bracelets. You do not need to spend much to buy one.
Beaded Bracelet
These bracelets are also very inexpensive. Made up of beads, beaded bracelets contain objects like plastic beads, wooden beads or stones. These beads are woven into a thread which is often elastic. Beaded bracelets with gemstones are expensive.
Charm Bracelet
A charm bracelet is the first picture comes in your mind when you talk about bracelets. You can add charm into a simple chain with a toggle clasp. You can completely change the look of your charm bracelet simply by replacing its charms.
Link Bracelet
A link bracelet is made of beads twisted on a chain. These beads are linked together. Even expensive brands such as Tiffany and Swarovski also design these bracelets.
Stretch Bracelet
These bracelets are extremely flexible. Just stretch it and cling it to your wrist. This bracelet consists of stones or beads woven on a flexible string.
Multi-Strands Bracelet
A multi-strands bracelet is just like a bangle bracelet having multiple strands. All strands are connected together with a single clasp. These strands may also consist of gemstones and beads.
Pearl Bracelet
If you are a woman with a taste of traditional jewelry, a pearl bracelet should be your top pick. A pearl bracelet looks very eclectic. This type of bracelet comes in various range. Not all pearl bracelets are expensive.
Gemstone Bracelet
These bracelets are for high-priced wardrobe. A gemstone bracelet often consists of rubies, sapphires, diamonds and other gemstones. You need to spend a fortune to buy a gemstone bracelet.
Some other popular types of women bracelet are:
●        Tennis Bracelets
●        Identification Bracelets
●        Omega Bracelets
●        Turquoise Bracelets
●        Toggle Clasp Bracelets
●        Wristwatch Bracelets
●        Shamballa Bracelets
●        Friendship Bracelets
●        Magnetic Bracelets
●        Liquid Silver Bracelets