Do you dream of working with the SBI (State Bank of India)? Have you been working hard to crack its PO exam with no luck so far? Perhaps you need to combine your hard work with smart work and understand the importance of the SBI PO previous year paper to attain success in 2020.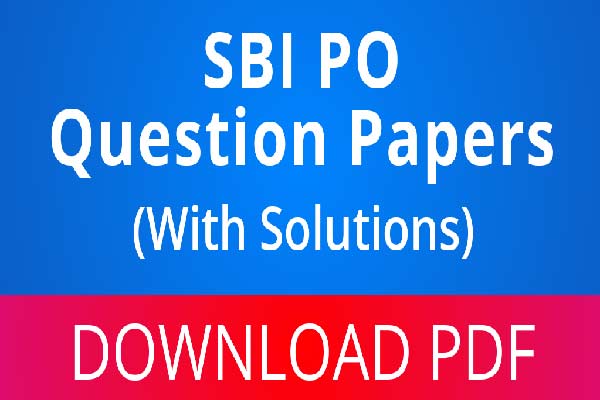 Your First Step to Becoming an SBI PO
The experience of working with an Indian multinational bank like SBI is certainly exceptional! Although this doesn't come with a government employee tag, you will still enjoy similar perks, such as fixed work timings, job security, subsidized loan facility, medical benefits, among others.
But your very first step to that professional comfort requires you to clear the PO or Prohibition Officer exam in 3 levels, which are:
prelims
main exam
group discussion & personal interview
There will be a provision for overall cut-off marks if you clear all three rounds. If you are through that as well, you would be eligible to become an SBI associate. As the 2020 registration is already around the corner, hopefully, you are pretty confident by now. But in case you are a bit shaky and haven't revised the SBI PO previous year paper, do it immediately.
Why Do You Need the Last Years' Papers to Ace the Exam?
A great number of current SBI officers confirm that the key to their triumph has been the previous PO papers. In fact, you would be surprised to learn the ways these can increase your levels of competency in different sections:
Solving Quantitative Aptitude
As this part belongs to the high difficulty level comprising 35 questions with a timespan of 45 minutes, you must practice the data interpretation topics from previous years. Focus on triangular DI, radar DI, quadratic equations to perform the complex and lengthy calculations at a standard speed.
Attain the ones first that you find easiest during the exam, and then shift to the less comfortable equations.
Tackling Reasoning Ability
One of the toughest sections of the main exam is Reasoning Ability. This part consists of 45 questions to be answered within an hour. Consult the last few years' papers to grasp the coding-decoding, syllogism, blood relation, and learn the art of time management.
Attempting all the 45 within 60 minutes is tricky. So try to improve your speed without compromising on accuracy.
Dealing with the English Language
A total of 40 minutes can be devoted to the English language section that entails essay/letter writing. The past questionnaire can assist you enormously in grasping the basics of English grammar.
Ideally, follow a routine of writing 1-2 articles/essays/letters every day to enhance content readability and flawlessness.
Upgrading General Awareness
The more aware you are of the present banking and economic scenarios, the better marks you can score. Using the previous papers as the reference would help you comprehend the patterns of questions without fail.
As wrong answers can deduct 0.25 marks each time, be careful while picking them, or leave them blank when in confusion. Expectantly, with the help of the SBI PO previous year paper, you would be able to fulfil your banking ambitions soon.