Lets accept that it's a task to choose outfit for your office and let try to simply this task with better understanding of style and trend in officewear ladies kurtis section.I am sayingit is a task because of the confusion goes around in mind while shopping for workwear as we don't want to look boring, at the same time don't want to make a mistake of choosing awkward, uncomfortable or overdo silhouettes. It is essential to feel comfortable and good in your work hour as it enhances your productivity. Though you can't control everything in life but you can make sure how you feel about your look and choosing the correct ensemble is very much part of it.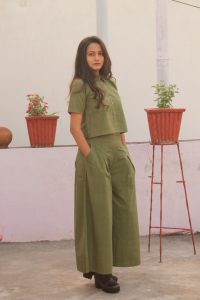 Here are some officewear trend and classy statement that you can consider while shopping for your workwear outfit
Same on same ensemble
Same on same look classy and sophisticated. You can team up your top with same color palazzo or with same color skirt. You can team up kurti/tunic with same color of palazzo. The same on same color look never go out of style so this statement will never grow old. Also being classy you can wear it in important presentation as well as with client meeting.
An ensemble of top and skirt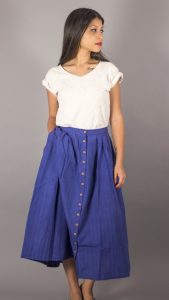 The ensemble of skirt and top look utterly sophisticated and professional. The outfit create an aura of no nonsense at work personality. Along with the strong look it is quite easy to shortlist this ensemble. A basic pestle top or shirt you can find easily, team that top with solid or printed skirt. Skirt silhouettes that look nice in workwear look are Aline, pencil cut or pleated one. The ensemble is utterly comfortable to carry. You can out interesting collection of cotton and printed skirts at BebaakStudio.
Bebaak has a collection of kalamkariblockprint, Indigo and handwoven skirt. They are versatile and classy in look.
Dresses:-
Dress never go wrong as office wear. It looks sophisticated and stylish. Being versatile in look it can your outfit for an informal meeting after work hour! Few things to consider before buying dress for office are
Choose mute color
Prefer linen and cotton dresses over polyester
Solid color or self-textured dresses look utterly classy
In Prints go small prints instead of bold prints
Try small embroidery over heavy patch work in dress
Sober and neat silhouettes look good in office
Aline, pencil cut, plated pattern and shift dresses are some of the preferred pattern in officewear range
You can check out beautiful range of dress for officewear in Bebaak's collection. Dresses are inspired from vintage craft and contemporary style. They are utterly comfortable to wear.
Tunic and Kurta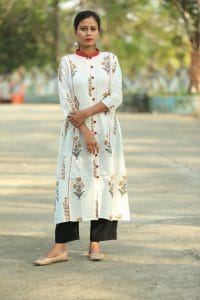 Tunic and kurtis are one the comfortable and easy outfit considering Indian weather and infrastructure. It is important to have a sharp look before choosing the tunic and kurti for work as there variety of option we have in this category varies from boring to bling. Your officewear kurti does not feel like you are coming out of a family function!
Patterns which synch with workwear look are straight cut, A line and Pleated tunic.
In terms of color choose earthy or muted color shed
Go for small print kurtis and elegant embroidery look
As they say simple is beautiful similarly sober tunic look best in office.
Team your tunic with Jeans, Palazzo or straight pant
You can pair the kurti or tunic with same color/print bottom as it gives smart look
Bebaak certainly have collection of skirts, tops, dresses and kurtas that goes with requirement of workwear cloth. Apart from perfect look they have comfort and quality. All their products are made from handcrafted textile from India. The collection is made by indigenous artisans and women group. As per the belief in handmade clothing and sustainable fashion, Bebaak bring contemporary collection suiting to working women and professionals.