Have you broken your iPhone 7 Plus screen? Simply take it to an expert iPhone repairer to get the best iPhone 7 Plus screen repair service at a cheap price.
The iPhone 7 and 7 Plus's screens are tremendously beautiful but it is a bitter reality that their glass beauty can break if you simply drop it on hard surfaces. Though it can be a moment of sadness and aggression, it is not the end of the world. Whether your iPhone 7 or 7 Plus screen gets slightly cracked or completely turns into millions of pieces, the chances are you can bring back it to life if you look for a repair treatment.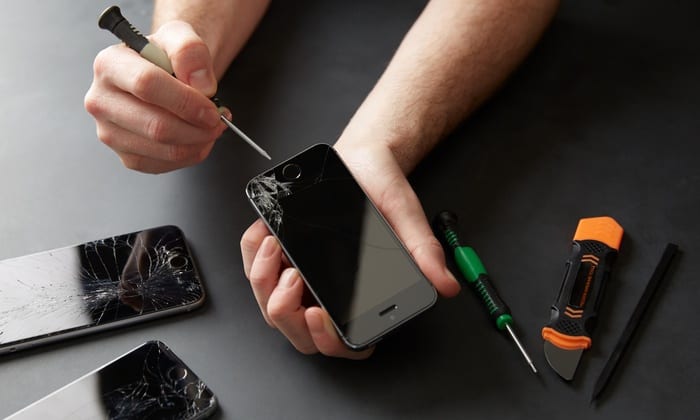 If you want to know how you can fix a broken iPhone 7 or 7 Plus, continue reading the following article. Here I will explain some different iPhone repairing solutions you can consider them and choose the best one that suits your iPhone's injury and budget.
Why Do You Need To Fix Your Cracked or Broken iPhone 7 or 7 Plus as Soon as Possible?
In modern time, you can't stay a few moments without a mobile phone. For instance, you got an accident and you need to call an emergency or simply you are out of gas. What can you do without your iPhone? How do you contact someone for help? That is the key reason to get your broken iPhone fixed as soon as possible otherwise it becomes extremely difficult and risky.
If you are totally dependent on your iPhone 7 or 7 Plus for office work then it becomes extremely significant to get your smashed iPhone fixed, otherwise it may create a lot of mess as well. Or if you are a phone addicted then you can't imagine surviving without your iPhone, so it is very clear that you need to get iPhone 7 screen replacement if you want to fix your broken iPhone sooner.
The next important question is……
How to Fix a Broken Screen on an iPhone 7 or 7 Plus?
One of the most awful things that could happen to an iPhone 7 or 7 Plus is a damaged or broken glass screen. Being that iPhone is based only from on-screen interaction, it can become useless until fixed. Many people assume iPhone screen repair or replacement is too expensive but the total cost for fixing a smashed iPhone screen does not even come close to buying a new iPhone.
However, there are a couple of ways you can get your iPhone 7 or 7 Plus display screen repaired or replaced. Let's take a look at these:
Visit AppleCare + Centre
The most certain thing is to consider and check if your iPhone 7 or 7 Plus is still under warranty. Unluckily even if you are blessed enough having a warranty card; damaged or broken iPhone screen is not often covered under manufacturer warranty. If you meet the warranty guidelines then probably you would not need to spend a single penny over the accidental damage. If, however, you are unfortunately not covered under such kind of warranty then AppleCare+ will charge a high cost for fixing your iPhone 7 or 7 Plus.
So, if you are not willing to pay an expensive price for iPhone 7 or 7 Plus screen repair, you will have to look for some other cheap options.
Fix it Using a DIY Kit
In order to replace your iPhone broken screen by yourself, you need some equipment. There are so many DIY kits available in the market specially designed for repairing the iPhone 7 or 7 Plus. Be careful when buying these kits since generally they are non-refundable.
Furthermore, fixing an iPhone screen through DIY Kits can be a confusing and annoying task because everyone is not a tech savvy. The iPhone LCD is quite sensitive and a little single mistake in the performing DIY solution can bring death to your phone. This is why it is considered a risky solution to fix an iPhone 7 or 7 Plus screen.
Take Your iPhone to An Authorised iPhone Repair centre
Last but not the least, getting third-party iPhone repair services is another option to fix a broken iPhone 7 or 7 Plus. But keep in mind that only a good or authorised one should be contacted because they will use original replacement parts to fix an iPhone broken screen, as well as, they charge a reasonable amount and take very short time to do that. The best thing is to ask your friends or colleagues regarding a trustworthy iPhone repairer. If they never face the situation then go online and start searching for it, you will get a long list of different iPhone repairing companies and shops.
Beware, not all are good in that job. So, it is advised that you should consider different factors such as company's certification, portfolio, reviews, and turnaround time etc. Furthermore, don't go for the first one; browse several options and compare them to find the best one. Some mobile phone repair shops also give you free diagnostic service and free estimations to fix your broken iPhone 7 or 7 Plus. You can also choose one of them as well. In this way, you can save few bucks and find the right one easily.