Having a patio area is a great way to extend the floor space of your property. Of course, you would want it to be a beautiful place where you can relax and entertain guests. As with any remodeling project, it is essential to plan when you are renovating your patio area. So, we've listed some of the most important things you need to consider when undertaking such task. Make sure you read through this article to know how you can maximize your budget.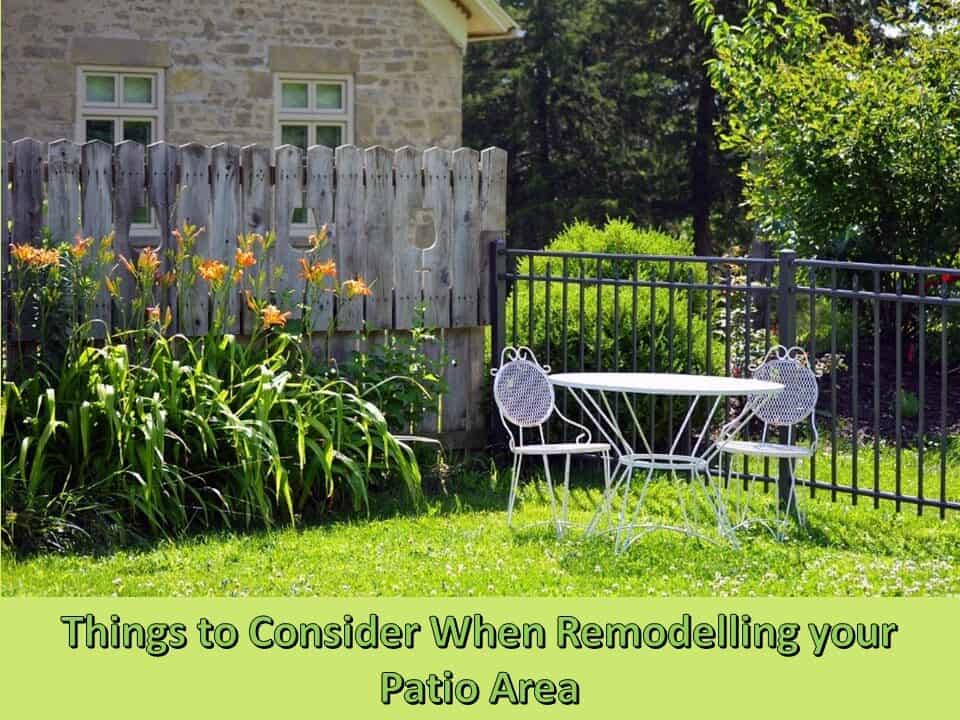 Consider What You Want Out of Your Outdoor Area
Patios can help define any home's exterior. So, it is essential for you to consider what you find personally interesting on a patio. Doing this will contribute to the overall experience or vibe you want for your house. Perhaps, you want the space to become the go-to spot for hosting barbecues, get-togethers or parties in your neighborhood? If this is the case, then you should think about constructing a patio area that has enough room to entertain several people. You should have enough yard space to accommodate various activities.
On the other hand, you might be thinking of having an area where you can take in the fresh air and have some peaceful time with your family. If so, you should consider getting furniture that will complement the layout you want to establish. For instance, if you're keen on getting timber furniture, you should also find the time and space you will need to maintain the pieces.
Another critical thing to consider is where the shade will come from. Do you want trees to provide shade to your patio area or do you plan on installing canopies? You should consider how these can affect your home's façade. You should also find the material needed in designing your perfect patio experience. Do you have small children who love to be rambunctious when playing? If this is the case, then it would be ideal to opt for softer laminate instead of harder timber materials. When you craft your patio area around the preferences and needs of your family, you can ensure that the result will satisfy you for many years to come.
How Much Time, Money and Space Do You Have?
Like any other remodelling project, renovating your patio will require time, money and space to complete. It is worth noting that space is one of the crucial elements in your project. It balances the recreational area and the green space in your backyard. So, it is probably one of the most significant factors you have to decide on in this project.
Another factor you have to consider is time. If you prefer entertaining outdoors in the warmer months, then you have to schedule the renovation during shoulder or off seasons. Doing this will ensure that your patio will be ready in time for your entertainment plans. It is also essential that you discuss your budget with your contractor. Remodelling patios can meet a range of budgets—from modest to extravagant. So, it is vital that you establish a budget that you're comfortable with.
Incorporating the Landscape Features in your Patio
There are many features in your outdoor space that may be difficult to change. Perhaps, you have an entire row of bushes or a particularly enormous tree placed in the wrong area. Instead of removing them, you can plan the layout around them, incorporating them in the design of your patio. For example, if there is a tree blocking the area, you can create curved stairways on either side of it to create a unique entry point into your house.
Find a Good Contractor for your Project
Of course, you can always opt to build your patio yourself. However, if you lack the time, experience and tools to do so, your best bet is to hire a contractor. You can hire a professional depending on what you need for your outdoor space. For instance, if you want to focus on creating a beautiful garden, it is ideal to hire a landscape architect or designer. You must understand the different types of professionals and what they do. This way, you can choose the right person to execute your vision.
Before you set up a meeting with a contractor, it is best to have your budget ready. Doing this will allow you to share the details with the pro up front. Consequently, they will be able to suggest creative solutions that will maximize your budget. That said, you can also avoid developing impractical plans that you will only toss later on.
Remodelling your patio is undeniably a challenging task. However, with careful planning and research, you can make it more relaxed and smooth-sailing.