Exercising in Summer is so easy; go to the park, toss a ball around for a few hours, or play soccer with your kids – job done. When it comes to winter, though, it's a whole new issue!
That doesn't mean that you should just sit at home and go stir-crazy with cabin fever. There are plenty of ways to keep your kids active during cold weather months.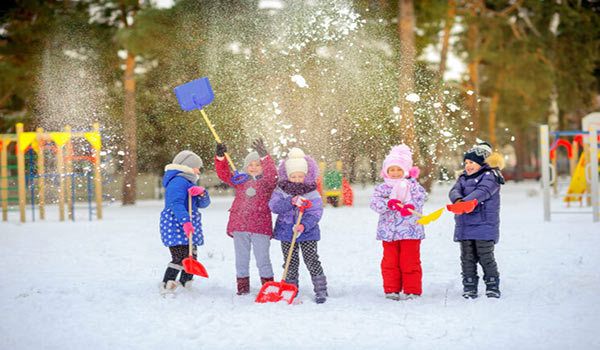 Staying Active
Being active as a child sets good habits for future adult life, and it's critical that parents show their children early on that exercise can be fun no matter what the weather.
Here are a few tips on how to help your kids stay physically fit during the wintertime.
Take a Snow Day 
Your kids will love the opportunity to play in the snow, build a snowman or have some winter fun on their own terms. It's also great for burning off energy, plus it's an easy way to get fresh air and get yourself outside for some fresh air.
If you have a snowblower, such as those sold by Cub Cadet, you can help them build a snow fort by piling up the snow in your front yard as you blow it away from your drive and sidewalk. This means the kids have snow to play in and you have a nice clean drive. It's a win-win situation!
Put Together An Indoor Obstacle Course 
Your kids will love this opportunity to explore their imagination while getting their blood pumping. 
You can make an obstacle course by creating simple challenges like climbing over blankets or boxes, running through the house collecting items, or racing up and down the stairs.
This is a fun way to engage your kids for at least an hour, and they'll also be developing important physical skills. Think of it as workout time that they'll look forward to!
Get Into A Routine 
Let kids know that every day during the winter you're going to find some time for them to go out and play, go sledding with their friends or just take a walk with you. 
If you make exercising a habit every day during the cold months, they will automatically want to join you so they can stay active too. It also helps them burn off steam, so they don't get bored or restless when they're stuck inside.
Have A Family Picnic 
There's nothing like sipping hot cocoa with the kids while chatting in front of a warm fire. 
If you can schedule your family picnic in the middle of winter, that's even better because then they'll feel like it's something special they get to do together. This is a wonderful time to play some outdoor games with your children like Simon Says, tag, Frisbee, and more!
This is also a good time to go sledding or take them on short hikes around your neighborhood. Get in some quality family time by bundling up and having fun in the snow together.
Know Your Limits 
One of the most important things you can do to help your child stay physically active this winter is to talk to them about their physical limits. 
If your kids like to run around outside or ride bikes outside, make sure they wear warm clothing and shoes because it's not uncommon for a person to get frostbite or hypothermia if they don't dress properly.
Follow – https://shiftkiya.com for More Updates