Let's start with the advantages of getting a license. You can operate as a handyman without one, but having an official Arizona contractors license allows you to earn more money. To handle jobs worth a stipulated amount, the law requires licensed contractors. And the majority of them work in the construction industry. You're confined to smaller, lower-paying positions if you don't have a license.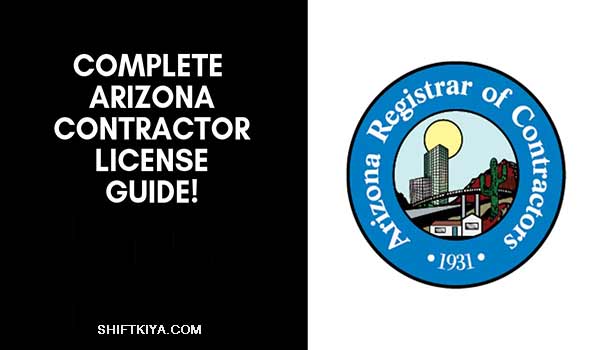 Obtaining a license also ensures your success. A license will allow you to:
Add

a professional touch to your work by integrating the seal of

approval from the state.




Show

customers that you are serious about your work.




Give

you an advantag

eous edge

over other contractors.



You can apply for an Arizona contractor's license even if you work in a partnership or with an LLC corporation. But the main element to understand is

Steps to get an
Arizona Contractors License
If

you are working on a project which exceeds $1,000, which includes

labor

and materials then you require an

Arizona contractors license


If

you are working on any project where a permit or license is required

then a

contractor's

license is required.



So, the major downside of not having an Arizona contractor's license is that you would not be a part of some major high-profile projects which could help you earn in thousands.
Following is the process through which you can get an Arizona contractors license
Application that is to be Downloaded

Download the application from the official website or you can directly get a hard copy by emailing them.
Licensing Exam

After your paperwork is completed take up the licensing exam and try to see which particular exams are required for your business and then apply for such examinations online
Submit your application

After you have completed the paperwork and signed the application and took the exam you will now submit your application.
Business Insurance

Don't forget to purchase company insurance, especially general liability, as you go through the licensing procedure. If there is an unfortunate accident or any kind of loss, a business insurance plan will assist protect you, your employees, and your company. Furthermore, it lends a sense of professionalism to your brand-new state license.
What are the requirements for an Arizona Contractors Licensure?
Defining Qualifying Party
A qualifying party who is above 18 can apply for a license and check the license requirements carefully.
Check for Background
Do make sure you complete the background check which is required by the Arizona registrars.
Bond for Construction

You would require a certain kind of license bond; this can be either a surety or cash bond but make sure you make this deposit with Arizona bank.
Summing Up
These were some essential procedures for obtaining an Arizona contractor's license and we are hopeful that you have been able to understand the complete procedure and will apply it accordingly. Well, possessing a license is really important hence make sure you do it properly and carefully so it does not possess any additional problems.
Follow – https://shiftkiya.com for More Updates