Education is prioritized by every individual in today's era mainly because education not only helps you achieve success in life but also teaches you basic etiquettes and makes you capable of deciding what is right and wrong. However, some parents focus more on high school and college education without knowing the importance of a strong educational base for children. Experts who used to write my essay claimed that students with sharp minds and excessive learning are usually those who have a stronger educational base.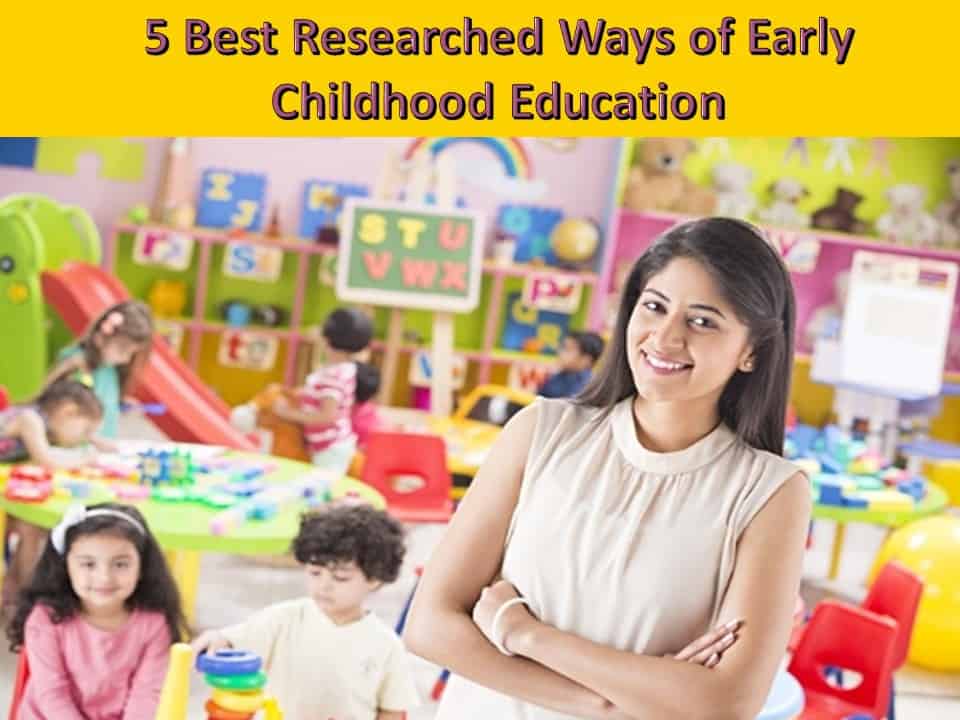 Early childhood education mainly focuses on way of living, interaction and communication rather than learning subjects or math. Science suggests that children are at the fastest growing pace during initial years of life and after a certain age, brain stops growing. To be specific, the brain grows to almost 80 percent of the size of the brain of a regular adult and to 90 percent when they reach the age of five. Therefore, it is highly recommended that early childhood education should be completed by maximum eight years of age after which children may pick up concepts slower.
Since there are only a few years during which early childhood education can be provided, following are five best researched ways that parents must use:
Repetition of essential poems and common phrases: Ever wondered why a majority of us remember the nursery rhymes even when we grow old? It is mainly because we recite and listen to them again and again during childhood. The repetition strongly fixes content in children's minds which they are unable to forget for a long period of time.So whether it is a religious text or regular words that demonstrate good manners like "thank you" and "sorry", just repeat them while interacting with children.
Interaction with certain people: Children's learning is significantly dependent on their interaction with people. While they do not really talk till a specific age, their interaction is different and matters a lot. The quality of one-way conversation you do with them or with someone else in front of children is a part of their learning cycle. So make sure the quality of interaction with children is decent so that they grow up well.When children are able to talk and have minor conversations, you will see that they adopt the style and even words of people they mostly interacted with throughout childhood. Hence it becomes a crucial part of early childhood education.
Quality of teachers matter the most: It is believed that teachers are just next to parents who influence a child's growth and learning. When you start sending your children to pre-school or kindergarten, make sure the teachers there know how to deal with children of that age. Considering the fact that this is the stage when a child's brain is growing, it is imperative for teachers to behave and act a certain way in front of them.Some teachers do not realize this due to lack of experience so you can judge the quality of teachers by their experience with handling children of ages under five years. Also, there are special programs for teachers that teach them how to maximize learning for children in growing stage.
Ensure a safe environment for children: External experiences remain an important part of your life from birth till death. Children's natural ability can be positively or negatively impacted by the environment they grow up in and so the parents must be careful about the environment that their child is witnessing. Environment has been termed as the "third teacher" of growing infants after parents and Write My Essay This is sufficient to prove why environment plays a major role in the development of children.Environment can refer to any place be it school, home, garden outside or even inside a car. Try to create a stable environment for your child at all times.
Use of technology for brain development: Finally, you can use gadgets like iPad to show children shows or animated cartoons specifically designed to develop their brain. These shows are a way of interaction for children and since it attracts children way too much, they probably learn the most from it. It is mainly because of this reason why they grow up inspired by fictional characters!
While these are just five researched efficient ways of providing early childhood education, you can adopt any strategy that you believe would work and help your child's brain grow in a good way. Just remember that delaying is not a wise step because once the brain stops growing rapidly after five years of age, your children may not be able to learn very important things till they become adults. So it is better to adopt multiple strategies and nurture them now.