Apple iPhones are the hottest and most wanted smartphones today in the mobile phone industry. Brand new iPhones are probably to cost a bomb and thus not so many people can afford it. Hence, if you can get your hands on a second hand iPhone at a cheap price, you should grab it.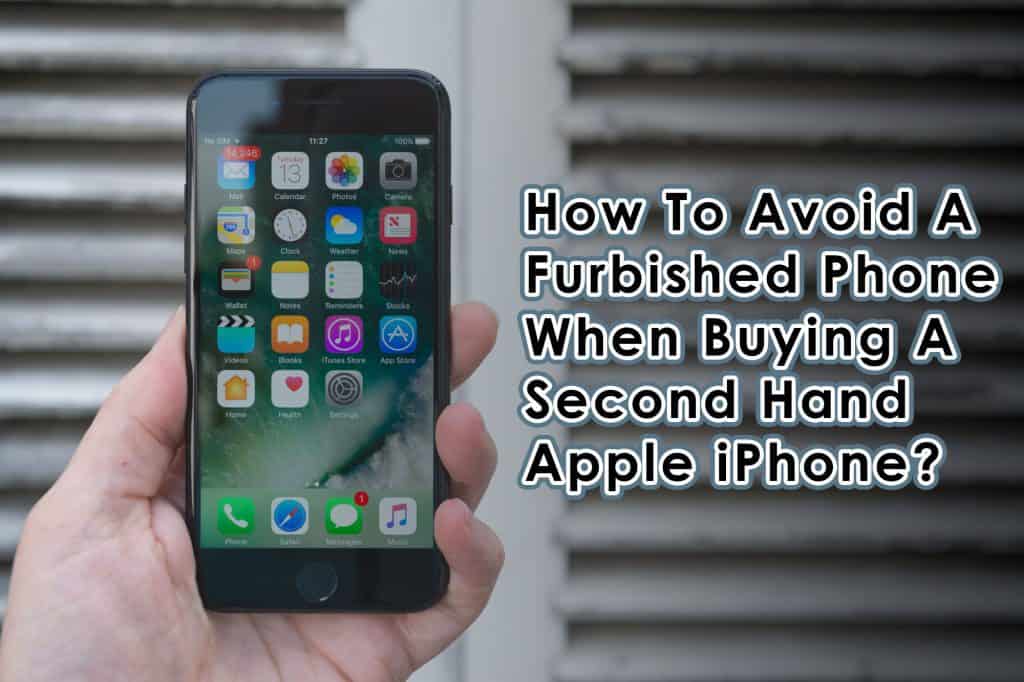 Second hand mobile phone industry is rapidly growing in the present days and you can find a wide range of used and refurbished iPhones to choose from. Generally, second hand iPhones have some scratches and marks but they function well. These are the phones which have been returned to the manufacturer in case of replacement or upgrading. This is why you should thoroughly inspect the used iPhone and confirm that it is a refurbished or replacement model. Here, the question is how you can check the iPhone is new, used or a reconditioned iPhone.
Is Your Selected iPhone is New or Refurbished?
Apple gives you an easy check to make sure that you are buying what was once a new, replacement, or refurbished model. There are four categories for iPhone models that have been characterised with Apple's engraving service.
To check the status of an iPhone, simply open Settings App > General > About and then scroll down until you see Model. Take a look at the Model number and more precisely, check out the first letter of the Model number. Following is your key:
M: New
N: Replacement
F: Refurbished
P: Personalised
If you find a model number as NYL27LA/L or FCQP22L/A, it means that is a refurbished or replacement iPhone model and you need to give more attention to the price. You can estimate a better price according to the condition of the phone.
Don't Miss Out These 10 Tips While Buying a Second Hand iPhone :-
After telling you how you can check the condition of an iPhone, I have compiled some useful tips and tricks which help you buy a quality iPhone at a good price. Buying used mobile phones and in this case a 'used iPhone' is not an easy job. But by doing some research work and making some considerations, you can find a favourable deal on your desired iPhone model. Here are some things that you must consider before buying a second hand iPhone.
Purchase from Certified Dealer:-

Always purchase a second hand iPhone from a certified, trusted dealer or reseller.     You can always read online reviews and certifications to know about the integrity of the dealer/reseller.
Examine the condition of the phone
Examine the iPhone for the internal damages. Don't buy phone if there are plenty of scratches and phone lost its original shine.
Don't forget to read the product description mentioned on the site to get information about the condition of the phone.
Remember, keeping a good condition mobile phone will always have nice impression of your personality on others.
Avoid stolen/blacklisted iPhones:-
Make sure that the iPhone is not stolen or blacklisted device. You can check it through IMEI number of the phone. If the iPhone is blacklisted, it will not be able to function.



Buy Unlocked iPhone:-
Ensure your selected iPhone is unlocked to your specific carrier. Keep in mind that if the phone is locked, you are restricted to use some particular network services on the handset. As well, you will have to pay some extra charges for unlocking the iPhone if you want to enjoy your preferred network services.
Take a look for Warranty:
Ask for the warranty card. Generally, online dealers or sellers don't offer any warranty for used iPhones. However, some of them now offering, so you should consider them for buying a second hand iPhone. It will give you some satisfaction regarding the purchase.



Comparison between market prices:-
One of the important tips is that don't forget to compare market prices for the similar handsets. This practice will save you a lot of money on the purchase of a used iPhone.
Always check the conditions of gadgets & accessories:-

It is highly recommended that check the working conditions of available gadgets & accessories before purchasing a second hand iPhone. Plug the charger into the phone and see if its working also check if battery is saving the charging or not. If there is any issue in charging don't buy that phone because repairing this condition will actually cost you more than what you paid for the mobile phone.
Check for Water/Liquid Damage condition:-
Apple doesn't provide warranty for water or liquid damaged iPhones. So if you are buying a second hand iPhone always check for water damage condition by yourself. The process for checking water or liquid damage condition is mentioned at Apple's website. Here, let me mention a tip for you, all Apple iPhones come with an Liquid Contact Indicator (LCI), you can visit Apple's official website to check where LCI is located in iPhone's particular model. So this LCI will be turned into RED as soon as the iPhone will come in contact with any liquid like water, juice, coffee or tea etc. So if turns Red, this means that the set is water damaged. Avoid buying that iPhone.
Do some Calls and Messages:-
The very main purpose of all the mobile phones is to make/receive calls and messages. So when you are purchasing a used iPhone always perform this action, insert you sim card into the mobile phone and send/receive calls and also try to send messages from that particular iPhone to check if these important functions are working properly or not. Also check the voice/call quality while doing calls, if there is any continuous distortion during calls then try to look for another iPhone.
Check buttons and camera:

Last but least, check for the buttons and camera of iPhone. Press all the buttons like home button, power button, volume button to see these are working fine or not. Although you have already checked these buttons by following above mentioned steps but rechecking the functionality of these buttons will remove all the doubts in your mind. Also don't forget to take some pictures from the camera of the iPhone, you are going to purchase. If that used phone is in good condition then it should give picture and video results same like new iPhone.