It is already September and we are all back to the office or almost. In order to start this new stage in the office, we propose some ideas on how to organize an office desk more efficiently and have everything at hand without your table becoming a hodgepodge of things, as often happens to all. Lots of things that many times we hardly use or only punctually accumulate on our table and in the end the trees do not let us see the forest, does it happen to you too? Well today we are going to tell you how to start from scratch to order your desk and thus make it a much more useful and organized space. Let's find out!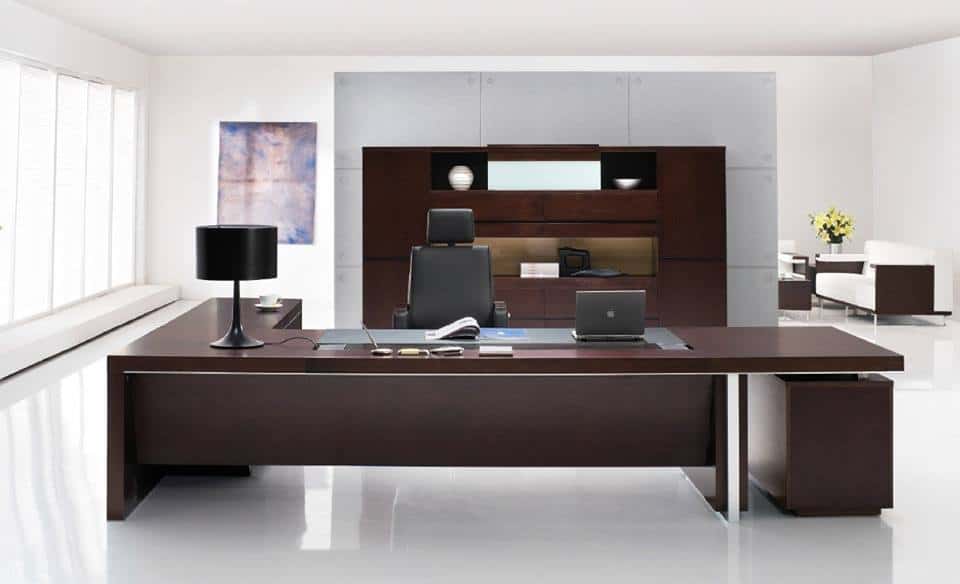 How to organize an office desk from scratch
It is best to start with a clean table to know exactly what space we have and how it will be more useful to organize the office desk. So get to work, empty your table leaving only the heaviest elements and that already has a fixed place assigned as a computer, printer, phone…. The first thing you have to do is check that these items are placed in the best possible place so you can work comfortably and with space. For this it will be good to review the ergonomic advice that we gave you some time ago about distances and placement of the screen. The elements of most use should be in the part where it is easier to catch them, in the right if you are right-handed or in the left if you are left-handed.
What can we throw?
Review everything you have removed from your table and be consistent. The things that you have not used in a long time you may not use them again, throw them away. Get rid of all the papers, magazines, letters that you do not need at all. If you still think that they can be useful at some point, look for a place that is not on the table, occupying visual space. Some drawer that you have little use or a closet in which to store things you do not use daily, only on time, can be very useful. Remember that in this case the less you have on the table, the better. You only need the items you use daily.
Organize the items you need by hand
Paper, pens, pencils, zeal … the office supplies that you use every day have to be on hand and together. So another way of knowing how to organize an office desk is ordering these usual elements to be able to have them always controlled. It is important that each thing has its place and each time you use it place it in the same place, that way you will always find it quickly and without having to think about it. Have the necessary material and a little more but in moderation. The glasses or organizers for pencils and pens can be very useful and some drawer to keep the rest of material that we use less frequently.
Find the best way to organize the folios and papers, if they might not be in view, better. Because it is always an element that tends to become disorganized. A file drawer that allows you to have the pending papers sorted would be the best, if not some folder system. The time you use to organize it will then be time that you will save when looking for it. The blank or recyclable sheets must also have a specific space, for example using a lid of a box so that they do not get continually disordered.
Have a drawer always close
How to organize an office desk with drawers? We all have material that we use and that we do not want to be always in view. For an aesthetic reason, too many things on the table can be a nuisance, or because they may be elements that we do not want to have in front of everyone. For this it will be very useful to have a drawer with drawers of different sizes in which we can store. Most tables offer the option of drawer with different types of drawers; think well which will go better when organizing. In addition, the drawers have interior organizers that are also very useful when ordering small items. An orderly space will make working easier for us.
If your table does not have a fixed drawer you can always find some space under it to place a drawer with wheels that will be very useful, especially if it has wheels and you can move it. But if your table is too small to place a drawer under you will have to find another space to place these desk accessories , either in a small metal drawer on the table or in a nearby closet or a multipurpose cart with wheels that you have nearby. There are many options for sure that you find one that works for you!
A file area
It depends on the use that you give to the file you can have of several types. What you use every day should have it near, for example in the last drawer of your chest of drawers arranged with hanging folders, and what you use most promptly can be in a closet and metal filing drawer that you have close enough. This will also allow you to get up from time to time and thus give your body a rest, because being too many hours sitting down can be harmful to our health. Here are some tips for doing some exercise while you work, but nothing better to walk and get up from time to time.
A calendar in sight
Yes we have the computer, the mobile, the tablet … and everyone has a calendar, but the classic monthly paper calendar is still a very useful tool in the office. Put it next to the computer and surely you save a lot of time because you can visualize the month in a simple glance. You can also hang it on the wall, at the end is to find the way that is more practical to use. This other idea about how to organize an office desk will also allow you to record your appointments or things you do not want to forget.
Organize constantly
If you continuously organize and reposition things on your site, in the end it will be much easier to have everything always organized. Also remember that it is good to get up from the chair and move to avoid having back and muscle problems, and what better excuse than to organize everything! If you manage to turn it into a habit your table will always be organized and you will be able to find any document or object in the blink of an eye, without having to search everywhere. At the end of the day they can be only five minutes, but if you accumulate at the end they will become working hours. The time spent organizing is time you earn!
Reduce ornaments
It is always good to have some element that encourages us or reminds us of a good time. Especially when we return after the holidays or when the days are too long those little memories can be a way to encourage us to continue. Holiday postcards, family photos, a detail that brought us from the other side of the ocean … but too many objects on the table means that our mind is working all the time to process them. That's why for those who ask how to organize an office desk? It is important to choose well and place on your table a maximum of 3 to be able to be small and not occupy too much space. Things that make you feel more at home and encourage you in your journey without supposing an overload of space.