Four walls and a roof can be a house, but a home is made up of every little thing that it has inside. Home is filled with care and affection. Moreover, depending on one's choice of aesthetics the décor also becomes a standout.
Use of wooden swing sets can quirk up your drawing room. It showcases simplicity.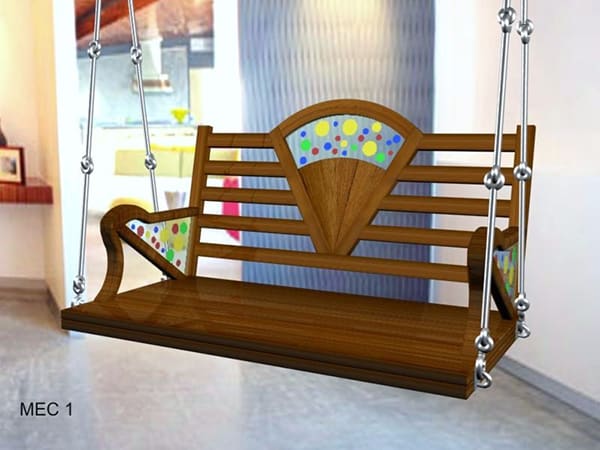 Have Fun
From 6 to 60, almost everyone enjoys a swing set. Having one inside your home brings the outdoor fun inside. If there are any children in the house, it will become their favourite playtime option. Even few times on the swing can help eliminate stress of the adults.
Why go for the wooden ones:-
There are a plethora of furniture manufacturers who provide customized swing sets for your home.
You can even order them online. Choosing an apt swing set which goes well with your home's interior decoration is not a very easy task. However, choosing a swing set made of wood can be an excellent choice as it goes well with almost every kind of decoration.
A wooden swing set that compliments your room décor has the following benefits over other choices, like –
They are sturdy and durable. The weather almost does not affect the wood hence they last for a long time.
They come in a wide variety of colours with subtle fine polishing making them look shiny. The wooden finish gives an appeal of aristocracy and brightens up the vibe of your room.
The swing sets come in a lot of modern day designs. You can customize them as well as choose retro designs to give a vintage touch to your room.
These swings are well built; they are capable of holding a lot of tension and no chance of parts crumbling Hence, these are entirely safe.
The choice of wood would be a tricky one as every wood is different. Teak wood swings are most recommended as they are resistant to termites and natural decay. Teak is a high density wood this is why it lasts longer without any maintenance. Also, there is no scope of rust which a huge benefit over swings made of iron.
Be Safe
The positioning of the swing set inside your house is another important factor. Unless you have acres of space in your home, you have to strategically place in the room, preferably in the drawing room but ensure that it fits in with all the other things.
Most of the swing related injuries happen because of falling in the ground. Though there is very less chance of happening such in case of wooden swings but to minimise the effect of worst case scenario you can put a carpet underneath the swing.
Having a swing set can diversify your everyday life, and you can spend leisurely hours on them relaxing maybe with a book or watch television. Swinging back and forth can help in reminiscing happy memories too. Use these for socialising too; if you organize parties or play dates for kids in your house, this can add an extra bit of fun.
Thus, a wooden swing set can bedazzle your home and entertain you at the same time.