If you are scared of hand shaking with people because of the sweaty palms, well, you are not alone. Lots of people are experiencing sweaty hands and they keep wiping up the hands to help remove this problem.
In simple terms, sweaty hands mean that the hands are launching excessive sweat. In fact, sweating is known as a normal process, in which your body can regulate the temperature. Sweating is common, however, nonstop sweaty hands are able to make you feel self-conscious and then lead to another problems while opening a door, writing a paper, signing documents or driving.
Medically, sweaty hands are considered as palm hyperhidrosis and are caused by anxiety, attacks, nervousness, depression and stress.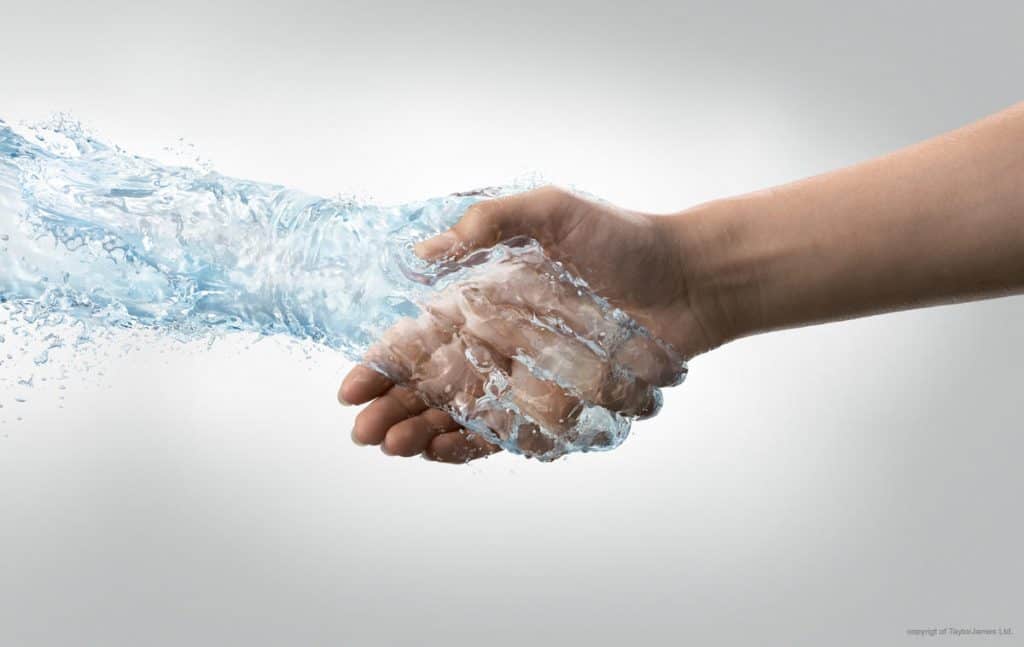 Basically, sweaty hands should be taken into consideration because it can be a sign of another severe health condition, including the disorder of nervous system, low blood sugar, a heart attack and alcohol withdrawal syndrome. Some typical medications can result in sweating in your body.
In case you feel embarrassed by the moist palms, it is high time for your to combat with this problem. In this case of situation, home remedies are widely applied to help you get rid of sweaty hands.
Take note that you need to seek for medical attention when experiencing heavy sweating, along with chest pain, light headedness and nausea.
Following are top natural tips on how to stop sweaty hands.
Baby Powder
Baby powder is known as one of the fastest and most effective home remedies for sweaty hands. This con serve as the natural antiperspirant well, which is beneficial for absorbing the moisture and then preventing the sweaty hands. Also, it an neutralize unpleasant odor.
All you need to do is sprinkling baby powder into the hands and then spread it round evenly. Perform as it needed.
You can opt for carrying a bottle of baby powder in your backpack, hence you do not need to rub the sweaty palms on the clothes.
Apple Cider Vinegar (ACV)
When it comes to sweaty hands, ACV is a must try tip. It can work to help balance your pH level in the body. In addition, the astringent nature present in ACV aids in controlling excess sweating by keeping your pores tightened.
How to apply:
Dip a clean tower in unfiltered apple cider vinegar
Wipe the hands by using this tower
Perform the same process for a couple of times per day.
Another option is to mix apple cider vinegar with water and soak your hands in it. Leave it on for about 10 minutes before rinsing them off with both soap as well as water.
You can use up apple cider vinegar by adding apple cider vinegar to a little clean water and add some honey. Consume the solution once on a daily basis to fight with sweating hands.
Black Tea
Black tea bags need to be considered in top among home remedies for sweaty hands. It can help you with treatments for sweaty palms problems.
Besides, black tea contains tannic acid which has astringent and antiperspirant effects which aid in constricting your sweaty glands. It prevents your glands form forming excessive sweat.
How to apply:
Have black tea bags held in the sweaty hands for some minutes per day
Another option is to place some tea bags into hot water and allow it to steep for 10 minutes before soaking the palms in this solution for a half an hour.
Baking Soda
Another handy tips on how to stop sweaty hands is baking soda. This does not cost you so much but bring positive outcomes for first several tries. Baking soda is packed with alkaline nature, which assist in controlling excessive sweating and make your sweating evaporate fast. In addition, the treatment can serve well as the deodorant and antiperspirant that effectively absorb the moisture.
How to apply:
Add from two or three teaspoons of baking soda to a glass of warm water
Soak your sweaty hands on it and leave it on for 15 minutes
Then, pat the hands thoroughly
Perform the same process for once per day
Or, you can mix baking soda with cornstarch. Place it into the bottle. Get the mixture sprinkled on the hands whenever you need.
Witch Hazel
Thanks to its container of antiperspirant and astringent properties, witch hazel can help manage the excessive sweating, which then making it one of the most excellent home remedies for removing sweaty hands. Apart from that, the tannic acid can help close the pores that prevent excessive sweating.
How to apply:
Dip a cotton ball into the liquid of witch hazel extract
Rub it over the hands for three times per day whenever you need.
Relieve Stress
 Stress is commonly known as one of the underlying causes of sweaty palms. Hence, reliving stress is a great treatment to get rid of this problem. It is crucial to manage the stress level to deal with sweaty hands and another health problems.
Source: https://authorityremedies.com/how-to-stop-sweaty-hands