Many people forget to take time to look after the mind, body, and soul. It is easy to neglect ' me ' time with a hectic schedule jam-packed with work and social commitments. Unfortunately, this can lead to high-stress levels and low morale. To maintain good health, you need to practice healthy habits. Here is a guide to help you practice self-care tips and improve wellness.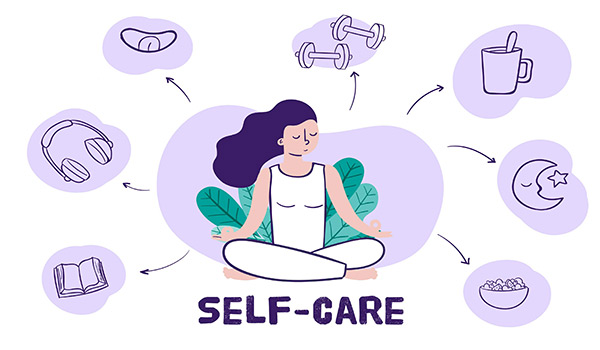 Treat Your Body Like a Temple
Treat your body like a temple by looking after it with regular exercise and fueling it with good, nutritious food. With a busy lifestyle, some people tend to reach for microwaveable, packaged food. Unfortunately, these microwave meals are often full of salt and processed junk. So instead, swap them for nutrient-rich options. The Mediterranean diet is a great option and is made up of wholesome foods that are heart-healthy. In fact, it tops the leaderboard for the best overall diet, according to the U.S. News & World Report. Not only is this diet full of plant-based foods, but it is also easy to follow and permits you to enjoy the occasional glass of red wine too.
Book a Therapeutic Massage
Although massages are often believed to be a luxury treatment offered by fancy hotels and spas, they originated in India thousands of years ago. In Ayurveda medicine, it is used to heal the body, provide pain relief, and prevent and cure illnesses. Massage therapy should be a regular addition to everyone's health and wellbeing regime, with so much going for it. Heaven and Earth Massage specializes in holistic therapy and can provide you with a certified massage therapist in Potters Bar.
Stay Zen
As with massage, meditation is an ancient practice that has also been around for thousands of years. The art of meditation can be difficult to master but is said to provide stress and pain relief, reduce blood pressure rates, and positively affect mental wellbeing. Meditation can help practitioners clarify the mind, clear it of negativity, and it can help people deal with their emotions better.
Be More Mindful
Speaking of the mind, you can incorporate exercise with mindfulness by practicing mindful yoga. As mentioned before, practicing mindfulness can have a positive impact on your mental state. In addition, practicing mindful yoga helps to improve flexibility, balance, and core strength. It is a low-impact exercise that consists of different types of postures and can be practiced by people of all abilities. The practice involves consciousness of your thoughts, the self, and the actions and movements you make. Mindful yoga can be practiced in a fitness studio alongside an instructor or with a guided video at home.
Create Space to Relax
Everyone needs a little R and R, and if the spare room in your home is gathering dust, why not dedicate it to your emotional wellbeing? Empty the room and paint it with neutral tones to create a sense of calmness and serenity. Use this space to practice meditation, yoga, or simply to read a book.
Follow – https://shiftkiya.com for More Updates