Summer is the time for cool swims and pool parties along with exposure to sun and nasty chemicals; making natural hair care and skin care a priority in your self care routine.
Chlorine along with other disinfectant chemicals in swimming pools and even drinking water is an undermined threat to hair and skin health. The chemical is also an oxidant, that which encourages free radicals, causing harm to skin and hair cells as they wipe off the protective sebum from hair and skin. Sebum is natural oil that our skin cells produce to keep the skin, scalp and hair protected, being slightly acidic in nature, it keeps control over harmful microbes that try to penetrate our skin.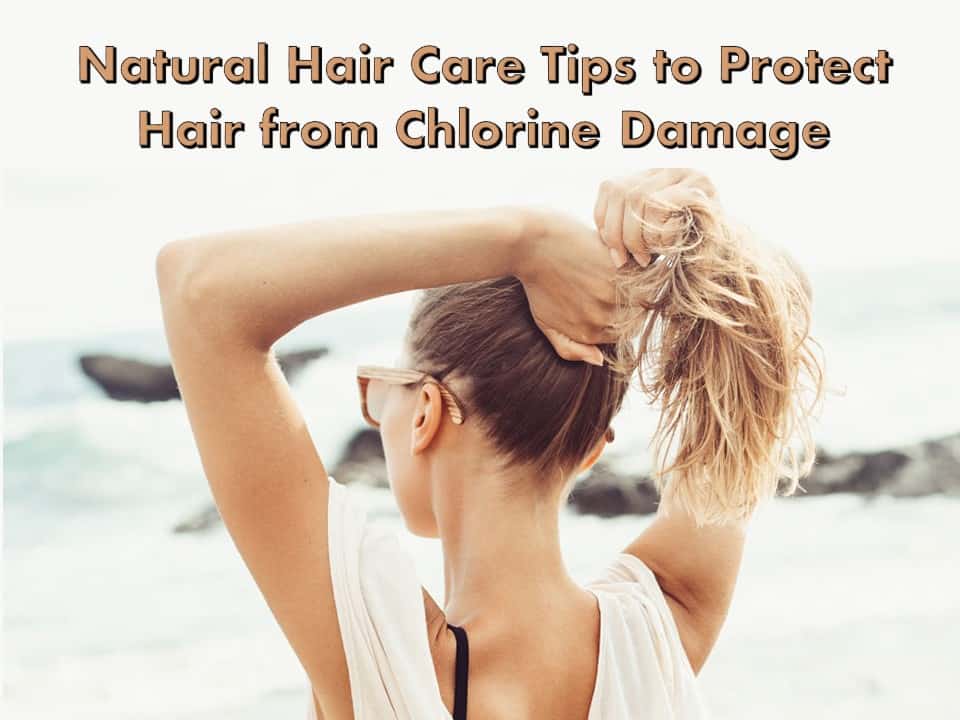 Natural Hair Care Tips:-
When we dip in chlorinated or treated water, without preparing our hair and skin, we let these dangerous chemicals wipe off our natural protection, sebum. Then it is easier for chemicals to penetrate the skin layer or hair cuticle and cause damage in the deeper layers. Brittle, dry and tinted hair, color reduction, split ends, itchy scalp, and even dermatitis or alopecia can be attributed to exposure to such chemicals in our day to day life.
Most professional hair products also pose a greater threat to hair health after a swim in chlorinated water as the outer layer of the hair is already eroded by the disinfectant chemicals, and the inner cortex and medulla can be easily penetrated by other harsh surfactants like sulphates combined with silicones, parabens, quaternary compounds also called quats/polyquats, ammonium chlorides etc often added to shampoos and conditioners to make hair silky smooth. The result is extremely dried, discolored brittle and unhealthy hair. You may feel similar dryness, flakiness, itching and irritation on the skin that becomes easily tanned also after a dip in treated water. We generally miss checking for nasty chemicals in our products when we buy hair care products online.
While one cannot avoid swims and summer fun in the pool, a natural hair care routine ensures the damage is minimized. Chlorine or other chemicals can easily penetrate dry hair on exposure, so it is advised to shower before entering the pool and wet the hair and skin before exposing it to chlorine. It is not so difficult to switch to organic hair care and organic coconut oil is the cheapest ingredient you can use to protect your hair from such damage. Coconut oil masks the hair, as it is rich in fatty acids called triglycerides that not only create a protective layer on hair and skin but also nourish and moisturize the hair preventing dryness and damage. Apart from being an excellent moisturizer, in small quantities, coconut oil has natural SPF (sun protection factor), which makes it indispensable in skin and hair care products. Coconut oil is also rich in Ferulic acid, an antioxidant more potent than Vitamin E, and another antioxidant called caffeic acid, which makes it an essential in skin care products for anti aging, sun-damage/burn, itching, dry or dehydrated hair and skin.
Organic hair masks are also good for moisturizing and coating the hair before entering the pool, look out for ingredients that are less complicated. Say yes to coconut oil, castor oil, neem oil, shea butter, cocoa butter, glycerin, aloe vera herbal extracts like hibiscus, amla, moringa, essential oils of lavender, cedarwood, tea tree, patchouli, rosemary, spikenard, sage and the likes and no to synthetic ingredients like polyquats, ammonium chlorides, parabens, PEGs, artificial fragrances in general.
Hair masks can be applied pre as well as post shampoo. For prevention, use a hair mask that can be applied prior to shampoo or getting into the pool. Of course wearing a cap also helps but caps are not 100% waterproof, a little pre-swim precaution and post-swim measures can keep your hair and scalp healthy in the long run. For skin protection using a sun block with moisturizing ingredients is highly recommended. Organic body oils and lotions also help to a certain extent.
Use natural and organic soaps after swim and moisturize after every swim, as chlorinated water rips the skin of its natural moisture. A body massage with organic oils not only treats the skin but also tones the muscles and helps in weight loss especially after a swim.
Using organic hair care products or natural ingredients at home can significantly reduce the damage caused by environmental and lifestyle toxins. Our hair is slightly acidic in nature, so acidic rinses like organic apple cider vinegar, yoghurt with henna, organic vodka with honey do wonders to your hair.
Always remember our hair and skin are important parts of our defense mechanism and of course our beauty quotients. Natural hair care is the best treatment you can give yourself for long lasting, anti aging beauty.