Thinking of a staycation, exploring the beautiful USA instead of jetting abroad? So you should! Because North America is filled with jaw-dropping camping spots with breathtaking scenery, amazing wildlife, and thrilling adventures waiting for you. To help you narrow down your list of camping spots, we've bundled our Top 5 Best Camping Destination in North America in one, handy overview. We've included something for every preference: from luscious woods and rugged peaks to a tropical paradise that is perfect for glamping. We're confident there's a destination that will make any outdoor enthusiast a happy camper! Discover our stunning Top 5 now:
Acadia National Park, Maine
Acadia National Park in Maine is a wonderland for hikers, with hundreds of different trails to explore. Home to some of the most breathtaking landscapes and diverse wildlife on the Eastern Seaboard, Acadia National Park is open to visitors year-round. The park spans over 47.000 acres, stretching from Mount Desert Island to the Schoodic Peninsula and Isle au Haut. Each season in Acadia has its charm, though the vividly-colored fall foliage makes it even popular in the autumn months. From dense forests to deserted beaches: Acadia is packed with all kinds of exciting terrain. Highlights are Cadillac mountain, the highest peak on Mount Desert Island, and Thunder Hole, a natural inlet on the Mount Desert Island coast that produces a show-stopping, thundering boom.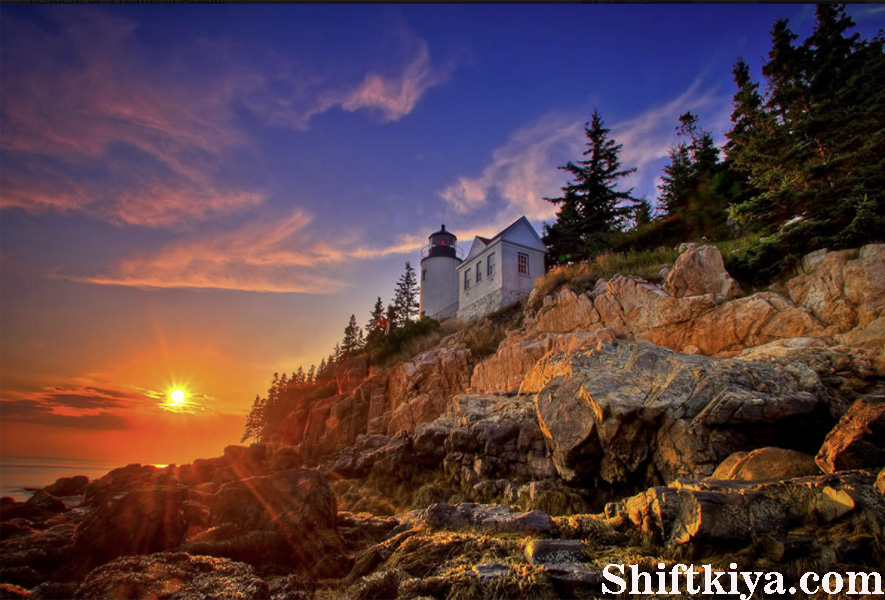 You can also spend the day island hopping to Isle au Haut: a picturesque island, about half of which is designated Acadia National Parkland. The island is accessible only by boat from the town of Stonington, making it a haven of tranquility amid the Atlantic. Acadia National Park does not allow backcountry camping or overnight parking, but there are over a dozen established campgrounds, both public and private, to take your pick from. You'll find campgrounds (including KOA campsites) all across the park, including on Mount Desert Island, the Schoodic Peninsula, and Isle au Haut.
Crater Lake National Park, Oregon
If you haven't been to Crater Lake National Park yet, add it to your list instantly. This location is truly awe-inspiring and has something magical that we're confident will enchant any outdoor enthusiast. The park was created by Mother Nature when Mount Mazama – the park's volcano – erupted 7700 years ago. This violent volcanic eruption triggered the collapse of Mount Mazama's tall peak. The empty caldera has since filled with pristine water, fed by rain and snow, resulting in the deepest lake in the USA.
Though Crater Lake is one of our country's smaller National Parks, it still offers plenty of activities to keep you – and your family – entertained. Whether you're planning a weekend getaway or a week-long adventure: you won't get bored at Crater. Recommended activities include hiking, walking tours, fishing, biking, boating, scavenger hunts, and Crater Lake's famous Scenic Rim Drive.
The park has two developed campgrounds: Mazama Campground and Lost Creek Campground, with a total of 240 tent and RV sites. Do note that both campsites are only open in summertime. In June, all sites are first-come, first-served, but in July, August, and September you have the option to reserve a spot in advance.
Yosemite National Park, California
Yes, we know Yosemite is at the top of many 'Best of' lists, but there's a reason why this National Park is so popular with campers and outdoor enthusiasts. This park, spanning a whopping 759,620 acres, pretty much has it all. Mind-blowing vistas, imposing cliffs and unusual rock formations, thundering waterfalls, sparkling lakes, and peaceful meadows filled with wildflowers: Yosemite is as picture-perfect as they come.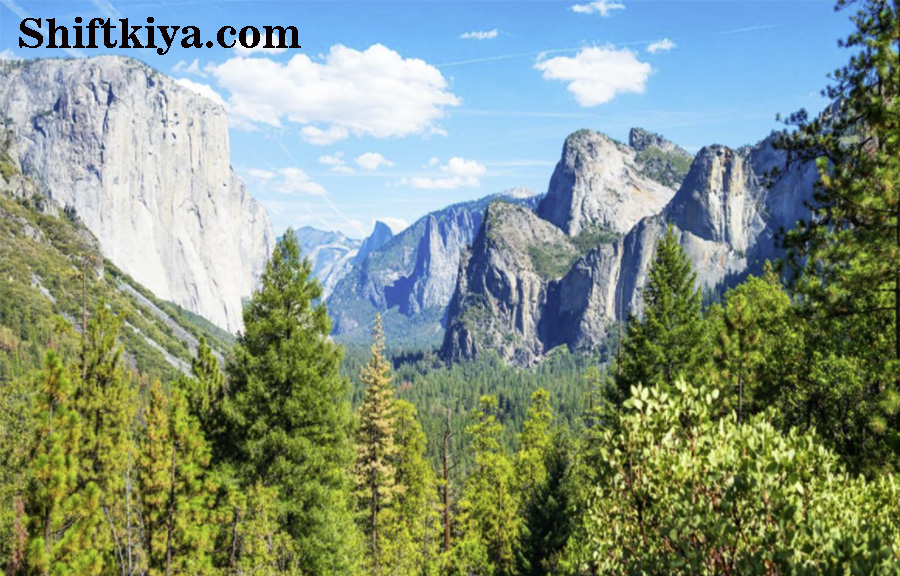 The park spoils any visitor for choice when it comes to activities, hiking routes, and scenic viewpoints. When in doubt, don't forget to visit the Mariposa Grove of Giant Sequoias, the largest sequoia grove in Yosemite- home to over 500 mature sequoias. Another must-see is El Capitan, an iconic granite cliff face that dominates the west end of Yosemite Valley. At more than 3,000 feet above the valley floor, this imposing wall is a sight to beyond. El Capitan is also featured in the Oscar-winning documentary Free Solo, in which rock climber Alex Honnold successfully achieved the first-ever rope-free climb of 'El Cap'. Besides stunning nature, wildlife, and waterfalls (Sentinel Falls is drop-dead gorgeous), Yosemite is also rich in culture and heritage.
Yosemite's impressive human history tells a story of conflict, dreams, diversity, hardships, adventures, and is still visible in its museums, visitor centers, and historic sites like the Golden Crown Mine. You could spend months in Yosemite, and still not get bored, thanks to the park's wide range of nature-based and cultural-based activities. From on-land adventures like rock-climbing, hiking, fishing, biking, and horse riding to watersports and lake-side activities such as boating, swimming, kayaking, and rafting: Yosemite has the perfect adventure for every type of explorer…
The downside to all of this beauty is that the park is one of the busiest in the country, and you will need to be clever about your overnight arrangements. Yosemite National Park has 13 established campgrounds, of which up to seven are on a reservation system. From April through September, reservations are essential and even the first-come, first-served campgrounds can fill up as early as 8 am from April through September.
That means the earlier you start planning your Yosemite adventure, the better! Be aware that nearly all reservations for May through September (and for some other weekends) are filled the first day they become available on the National Parks website (usually within seconds), so make sure to double-check when tent sites are due to become available for booking, and set an alarm to be ready to hit that refresh button!
Biscayne National Park, Florida
If you fancy a camping trip with a tropical twist, consider Biscayne National Park in Florida. This iconic location is home to one of the world's longest coral reefs and makes the perfect beach getaway to relax and recharge. Though camping in Biscayne can be a bit pricey compared to other National Parks, it's worth the extra dollars for its crystal-clear water appeal. Biscayne National Park is just off the coast of downtown Miami but feels like a whole other world thanks to its emerald islands, aquamarine waters, vivid coral reefs, and unspoiled nature. Snorkeling, diving, fishing, canoeing, and other watersports are the park's main appeal – making this a paradise for outdoor adventures that love the ocean.
There are two campgrounds in Biscayne National Park, both are located on islands, Elliott Key and Boca Chita Key. Boca Chita Key is the park's most popular island and features beautiful waterfront views, a grassy camping area, picnic tables, and grills. Basic toilets are available, but there are no showers, sinks, or drinking water. Elliott Key is the park's largest island. Its campground features restrooms with sinks, cold water showers, picnic tables, and grills. Drinking water is available, but you're advised to bring drinking water as a precaution if the system goes down.
When planning a trip to Biscayne National Park, do keep in mind that you cannot reserve any of the park's camping pitches: they are only available on a first-come, first-served basis. So, load up your boat early, depart at sunrise, and nab yourself one of the coveted spots on this tropical paradise location!
Denali National Park, Alaska
If you're an experienced camper and don't mind a bit of a challenge, Denali National Park in Alaska is one of the ultimate camping getaways. Spanning more than 6 million acres, Denali is home to Mount McKinley, North America's tallest peak, and hundreds of scenic hiking trails. From rugged mountains, raging rivers, and imposing wildlife: camping in Denali is a fantastic way to explore everything this Alaska gem has to offer.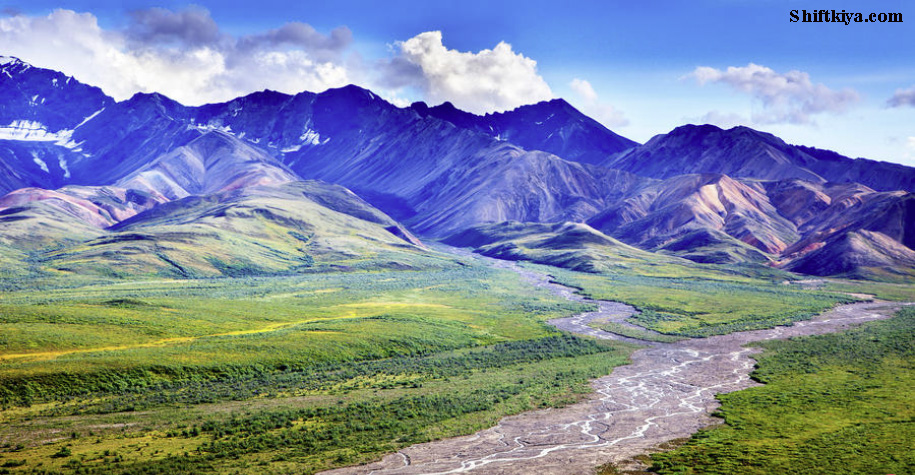 Each season in Denali National Park is spectacular, but for camping, we'd recommend scheduling a trip in the summer months (as winter in Denali can turn your camping trip into an arctic expedition). Plus, in the summertime, you may have the opportunity to catch a glimpse of the midnight sun. Visible only around mid-summer, the midnight sun is a period where the sunset is closest to midnight, and the sun never truly sets. This results in a warm golden glow that illuminates Denali's rugged landscape: which is simply stunning. Besides amazing sunsets, Denali is packed with scenic vistas and outlooks, which can be explored on one of the park's many hiking routes.
The great thing is that there's a trail for every experience level: from moderate hikes that are even accessible by wheelchair, to hard and difficult paths with lots of elevation along with Mount McKinley. Whether you want to stroll or test your limits: Denali has got you covered. Denali is home to 6 campgrounds, 5 of which are only open in summertime. For winter camping, you can head to Riley Creek campground, but be warned: it gets very, very cold and you'll need a 4-season best canopy tent and lots of thermal gear to pull through those freezing nights…
So, if we were you, we'd just plan an adventure in the summertime when Denali is a bit more welcoming weather-wise. As there are only 6 campgrounds, sites do tend to sell out quickly in the summer season, so don't forget to make timely reservations. Also good to know: there are also multiple campsites just outside the park's borders, which could provide a great alternative if all park-based campsites are already filled.