Do you know that 71% of the total traffic that comes to your website is just casual visitors and if you could convert casual website visitors into marketing funnel, it would be phenomenal? This 71 % of visitors can be organic traffic, social traffic, referral traffic etc. and they do not have anything specific in mind when they visit your website. Just imagine how good it would be for your business if you could convert these casual visitors into buyers.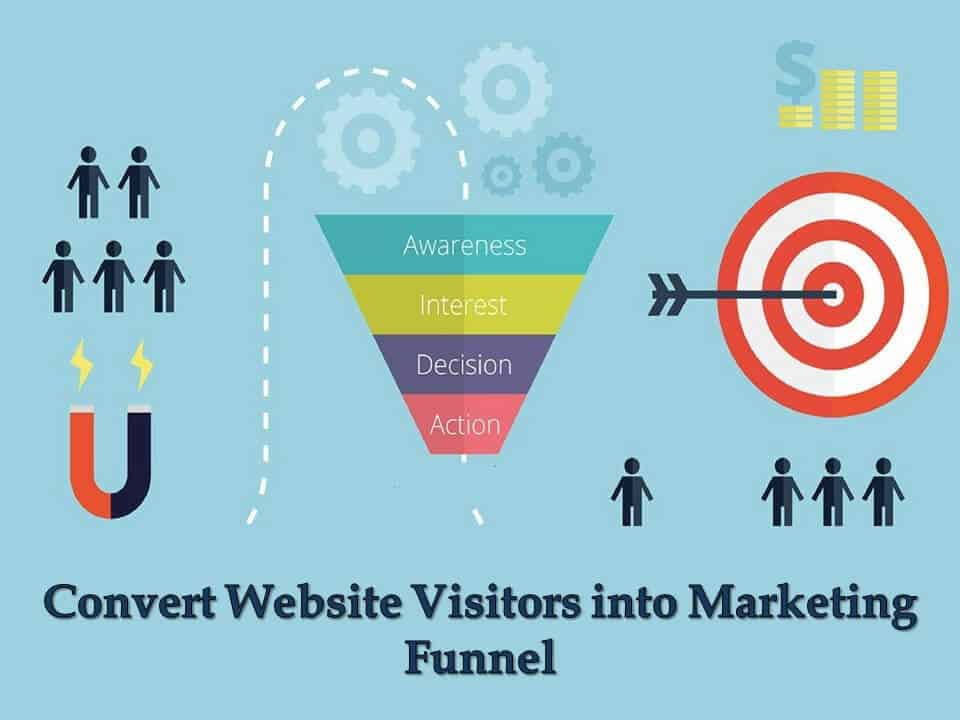 Let us go through some of the effective ways to convert casual website visitors into marketing funnel.
Landing Pages Should Be Engaging
Whenever a visitor lands on your page, the page should be appealing and engaging with full eCommerce website design in place. Having too much of intellectual stuff alone on it might repel the visitors. You need to balance out the serious stuff with something that is a visual treat to the eyes to gain the attention of the visitor. As 71% of the visitors are casual, you need to include some generic evergreen content, which can appeal to varied visitors with a wide range of interests, to convert casual website visitors into marketing funnel. Once they are engaged on your website, you can guide them to more focused and specific pages.
Also Read: Lead Generation Success in A Few Simple Tips
Visual Content Is More Engaging
It is easy to absorb visual information when compared to information that it is presented in a textual form. Assuming that a majority of your visitors are more open to visual content, a similar approach should be taken in eCommerce website design. All the persuasive and influential content should preferably be in a visual form. This helps to keep casual visitors engaged on the page and they tend to stick around for longer, grasping more. The more you use images, memes, videos etc. on your page to provide relevant information to the visitors, the more likely are they to get sucked into your marketing funnel.
Lead Magnets
Over the years, lead magnets have proved to be an effective way of building trust and targeting the right audience. They are used to provide an ethical and irresistible bribe to a prospect that provides their contact details in return. They are designed in such a manner that the casual visitors find it hard to resist. It might sound simple but designing the lead magnets is not easy given that 73% of the visitors hate to see a pop-up that asks for their contact details or personal data. It requires a thorough research and then one can come up with something that engages the casual visitors and they get caught into it.
Make Use of Scroll-Triggered Lightboxes
Instead of using intrusive pop-ups, which are annoying and repels approximately 73% of your customers, it's better to make use of scroll-triggered lightboxes. These boxes remain fixed in the bottom corner and don't obstruct the user from going through the material they are engaged in. Trying to persuade the visitors to provide their contact information within just a few seconds of landing on the page actually turns them off and in most cases, they abandon the page immediately. The right strategy is to first provide them with some content that they will be interested in and then subtly trigger the popup. If the visitors have gone through most of the content and are happy with it, it is very likely that they will willingly part with their contact information.
Your Offer Should Include an Element of Urgency
The human brain works at its optimum level when it senses an element of urgency. Any digital agency makes use of this human psychology when they design their strategies. The Welcome Email is designed in such a manner that it is not only captivating but also has an element of urgency in it to motivate the users to take a prompt action.
If you are offering to give away something for free, it should include a deadline so that the users are prompted to act there and then. For the early movers, there should be something additional in it like an extra discount. Some of the eCommerce platforms like Amazon display this urgency very well. There are also many airlines that leverage the scarcity to increase their sales. If you have booked tickets online or bought stuff from Amazon, you would have definitely come across statements like only 2 seats left or only 3 of these are left etc. This puts the right kind of pressure on the visitors to take immediate action so that they don't miss out on it.
Endnote:
These are a few of the effective ways to convert casual website visitors into marketing funnel. Having traffic on the website alone is not enough. You need to convert them from mere visitors to customers if you want your business to grow and prosper. You need to devise a marketing strategy that not only drives traffic to your website but results in good conversion rate too.
Author bio:
Micheal Anderson is a proficient digital marketing expert with Techmagnate. He works on several aspects such as local SEO services, mobile advertising, PPC advertising, content marketing etc.