When designing offices we must think of many aspects that will help us create the right climate so that motivation is high and productivity reached its maximum point but at the same time make the team feel comfortable and at ease. It is a great challenge that we face every time we design offices. Creating a space that encourages creativity and communication between people, where they feel comfortable and at the same time motivated to give their best every day, is a very complicated task.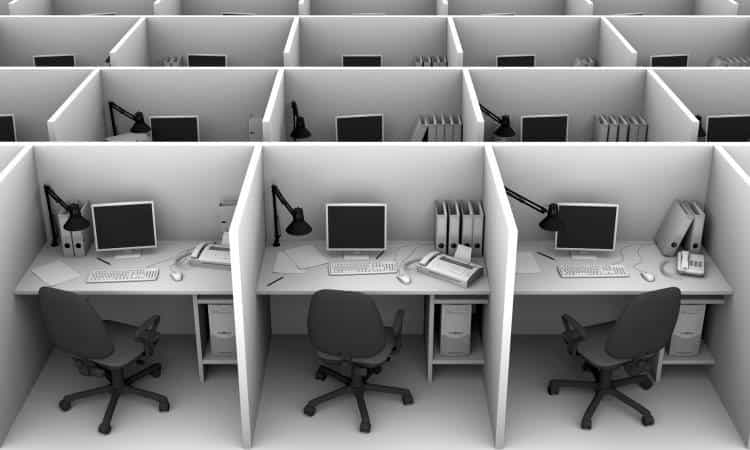 But we can begin by having cleared what are the aspects that we should avoid when developing the design of an office. Factors to take into account when developing an office interior design project that will help us achieve our goals of comfort and functionality. There are elements that we sometimes overlook and can negatively affect the performance of office staff and be a long-term burden.
What are the 7 mistakes in office decoration that you should avoid?
Today we tell you what aspects you should keep in mind when planning a redecoration or redistribution of your offices. It is the perfect time to sit down and plan well a project that will help us in that the day to day is much more effective and pleasant for all. Since we have to spend many hours in the office that stay in them is the best possible for everyone and also helps us in the global work. Let's go see it.
Planning
As always, everything starts with a good planning of the space and the needs that we have. It seems obvious but sometimes the most obvious is what we overlook. Whether we design the design ourselves as a professional, the first thing we should do is sit down and think about the needs we will have. In this way we will analyze what the workers will need as well as the different areas that will have to be included. It is not about placing chairs and tables in any way, everything must have a clear and delimited space.
This planning should be done thinking about the number of people who will work and what their work will be, if it is in a team and they need to be close or individual and need to be isolated. Depending on the type of work carried out in each position there will be some needs to cover or others, it is not the same an administration area as a reception area or an area where the creative team works. Think of individual and collective needs in detail to avoid problems later.
A very important area is the reception where we receive visits, customers, suppliers … For this we must also anticipate the needs that each of them will have and how we will cover them, as well as if there should be toilets nearby, areas for informal meetings or more formal, if you have to place vending machines or a coffee machine …. The reception and waiting room are the main areas of transmission of our company values ​​to the outside so we must take care of them with care and think about the comfort and well-being of those who visit us.
Take ergonomics into account
It is another of the 7 mistakes in office decoration that you should avoid that are usually committed when planning an office. The ergonomics helps us increase profitability and avoid many health problems that end up impacting on labor absence. We must be clear that there are elements in which we cannot save, because then they will have a higher cost in terms of work performance. The long-term benefit guarantees the investment in good furniture and chairs.
Especially the chairs are an element in which we must take into account their ergonomics and that they help us to a good labor health. The use of an ergonomic chair that adapts to our back allows us to avoid discomfort, reduce absence from work due to injury and an improvement in work performance. Also the height of the tables or the distance between elements is a factor that we must not forget. Companies specialized in office furniture know this and take care of all these aspects with care.
It is also necessary to take into account when group work is important and provide those areas with the necessary elements but without separations that make the correct communication impossible, such as panels that are too high. There are all kinds of solutions that can help us to improve communication but at the same time maintain the privacy of each job such as mesh or fabric separators or low separators. Study each case carefully and then you will appreciate it, thus avoiding another of the typical errors in office decoration.
Making the most of natural light
An error that is usually made in offices is to forget natural light and bet only by artificial light. Natural light prevents visual fatigue so it is perfect to work. Natural light can give us other important effects such as the feeling of well-being that will help improve productivity and creativity. So if we can take advantage of it, better to do it and make the most of it with large windows or even skylights. In addition to the significant energy savings that will involve us.
It will always be necessary to complement it with artificial light that helps us to work in less sunny moments or to perform tasks that require more lighting than usual. For this, it is very important to plan the lighting of each job, taking into account their needs and see what improvements we can offer at the lighting level. Today there are a lot of lighting solutions that adapt to each function.
To enhance the light and the effect of spaciousness and well-being it is better to bet on light colors on the walls and ceilings. In this way, we will create a more receptive environment among workers, as well as making better use of both natural and artificial light. Also bet on the low consumption LEDs when lighting, fluorescents have already gone down in history because their flickering impairs vision. LEDs offer better lighting at a lower price.
Think of the storage space
Another of the errors in office decoration that is usually committed is not to think about the storage needs that we will have … and then we do not know where to put all the material that we are generating day by day. To help us to work we need clear spaces, for it nothing to be organized but it is also very important to have adequate storage spaces for each use and type of element.
From drawers on work tables to cabinets to store documentation. Everything must be thought so that we have the necessary material near but ordered so that it is easy to find when we need it and at the same time it is kept in good conditions. There are many documents that must be saved for sporadic use or special material that requires specific storage. Keep this in mind and then you will not have problems.
Create the right environment
Some offices are not just a cluster of tables, chairs, cupboards and computers … Offices must transmit something to us, they must have an image consistent with our philosophy as a company and give a message to both our workers and visitors. That is why we must take care of the details and also the aesthetics of our offices as a whole. We must create a harmonious and at the same time personal environment that makes those who must spend many hours in it feel comfortable.
More mistakes in office decoration
That is why it is better to bet on simplicity both in the design of the furniture and the spaces. In this way we will also facilitate concentration without too many distractions or discordant elements. If we want to bet on more colorful spaces we can do it in the rest and reception areas. But that does not mean that they have to be boring, but that we have to find the balance between design and functionality that helps us to develop our task in a pleasant environment.
6 – Avoid the cables
A common element in offices is cables. Everything is connected and it is inevitable that there will always be cables in one place or another but for safety and aesthetics we must think of solutions so that they do not look and remain hidden. For this there are all kinds of solutions from gutters to false funds. That's why the planning of each job should include the issue of cables and connections so that we have a clear idea of ​​what we are going to do to hide them and leave the spaces clean of them.
Give importance to resting areas
Sometimes it seems that we focus only on the work areas and forget that there are also other important areas in an office. Rest areas are also essential in order to achieve an adequate climate and to maintain performance and good work. Not only must we have the necessary elements, but we must think of them as a whole that invites relaxation and rest.
Every day we see that companies give more importance to these spaces … and it does not surprise us because it is proven that they help workers to return with their batteries charged to their posts. Therefore, we must pamper them and think about them, placing the necessary elements so that the workers feel comfortable and can enjoy those moments. If you want to discover more about rest areas, we invite you to read this article about the latest novelties and ideas to decorate them.