This is the fifth month of the year and the sloths have not yet begun their New Year's resolutions, everyone knows the term "broken resolutions". Year after year, we tend to pledge that at the beginning of a new year, we'll start something we've planned for a long time, but had no good reason to concentrate. Promises and vow to go to the gym, abandon bad habits, focus on weight loss, start eating healthy, or have something deep in our heads as something to work on are easy to break. It's been proven psychologically that people tend to break rules that are of very little importance, and that's because we've seen our elders do exactly the same since birth. The same thing happens with the New Year's resolutions.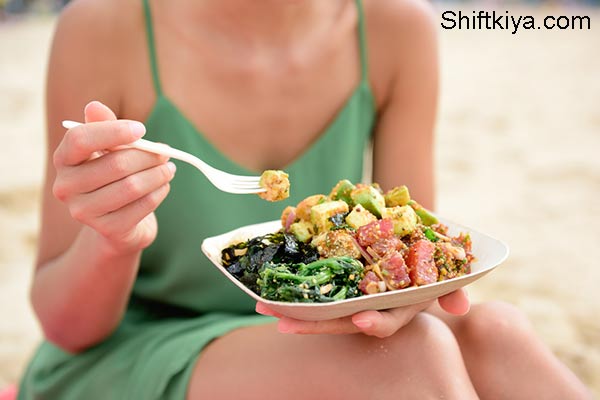 One of the most sensible solutions in the world is physical fitness.
You can find many diet plans, did you know that the available diet plans are not that effective because the different body required a different amount of diet and protein? Your intake habits affect the weight of your body depends on your body type. First, stop unhealthy eating.
According to Dr. William H. Sheldon, who introduced the concept of somatotypes in the 1940s, was born with a genetic predisposition to grow in a particular environment.
Before you start planning a diet, you need to know the structure of your body. The diet should be according to the body shape.
These are perfect eatable tips, that'll help you to know your body and maintain weight.
1. Carrot (Inverted Triangle):- 
Structure: This type of shape has a wide chest and broad shoulders compared to the waist and hips.
Edibles: Try to use more green vegetables, white rice, quinoa, potatoes and oatmeal.
Avoid: Spaghetti straps blouses and a boat neck blouse. They should stay completely away from processed foods and fatty cheeses. You should eat spinach almonds and black beans every day.
2. Pear (upwards triangle):-
Structure: pear body structure has hips are bigger, heavy thighs, curved hips, narrow shoulders define the waist and small bust. The biggest challenge for this type of body is losing weight.
"When they drop pounds, their body burns the fat that is around our middle, the kind that is related to heart disease, diabetes and cancer, which is huge except that the bulbs do not have much sagging. They have fat in their lower half who refuses to give in,"Dr. Savard.
Some researchers believe that stubborn fat on the thighs and thighs (called passive fat) is so hard to remove because it should be kept quiet so that women can get enough fuel during childbirth and breastfeeding. Another possible explanation: Cellulite, which usually affects the hips and thighs, creates a network of fibrous tissue that makes it difficult to deliver blood to reach fat stores. If the blood cannot enter, Dr. Savard, the fat cannot be broken down.
Edible: You should eat those things that have less fat and fiber. You can eat brown rice, quinoa and wholegrain bread,
Avoid: You should avoid processed meat and non-organic foods. When pear-shaped people are alcoholics, they should avoid alcoholic drinks immediately because these things cut them off from the food they need for their bodies.
3.
Hourglass (facing inwards, triangles opposing):-
Structure: The hourglass shape of the body has hips and bust are of equal size, narrow waist, hips more complete, generous thigh shape and well-defined size. With an hourglass body, your muscles build up faster, so you should not add weight to your exercise routine until you lose most of your body fat. An hourglass-shaped body is one of the famous body types. It is a body shape that is well proportioned in the upper and lower parts of the body, accompanied by a thin waist.
In general, it looks good, especially if you are a ramp model. In case you do not want to look too thin, you may want to gain weight, especially in the hips and chest.
Food: You can add fruits, vegetables, millet, quinoa and avocados, salmon, olive oil, buckwheat, bulgur, beans, seeds and lentils to your plan. Nutrition. You can also eat nuts, beans, seeds, lentils, edamame and tofu. There are various online stores that offer the best healthy foods with cheap prices with voucher codes & discount codes like 123 Health Store Voucher Codes.
Avoid: You must control the use of sugar, processed foods, high-fat foods and caffeine. Carrots, beets, potatoes, animal fats (except fish), sugar-rich foods, soft drinks, bananas, white flour, fast foods, raisins, pineapples, etc.
4.
Straight (rectangular)
Structure: The structure of the right body has a small size, the thick hips, hips and shoulders are the same size. A thin, slender shape, like a slender body, we call a rectangular body. The size of the hips and the size of the waist show no discernible difference. There may be weight gain in the stomach or posterior area, but the arms and legs still have a slim shape. Even the size of the shoulder area can be synchronized with the waist and hip area.
Edible: can add millet, humus, quinoa, fish, chicken, carrots, non-starchy vegetables, apples, almonds, carbohydrates and cucumbers to the diet. Disciplined diet and exercise are very important in achieving the perfect body shape you have always dreamed of. However, it is also important to control that you do not move beyond what your body can handle. Be sure to consult with your coach or doctor if you have any health problems that you should avoid using a certain type of diet or, in particular, any kind of exercise.
Avoid: You must avoid the use of excessive carbohydrates and sugars.
5.
Apple (downwards triangle):-
Structure: Apple's body structure has smaller hips, thin arms, a broader bust, thin legs, an indeterminate waist, a flat bottom, and broader shoulders. Apples carry fat around their middle, but they usually have a thin lower part of the body. If you are an apple you will find it easier to lose weight than a pear because "belly fat breaks faster than fat stored in the buttocks and thigh," says Kathie Swift, RD, director of nutrition Ultrawellness. Center in Lenox, Massachusetts. The researchers are uncertain about the reason, but believe that this may have something to do with the fact that belly fat is mobile: it likes to enter the bloodstream and circulate around its organs, affecting its functioning.
Belly fat represents some major health threats, including an increased risk of heart disease, diabetes and breast cancer. In fact, visceral fat (also known as toxic), which is found in the environment of the kidneys, the pancreas and the liver, raises blood sugar levels and creates resistance and inflammation. To insulin. In other words, your body has an excessive amount of sugar that floats and cannot handle everything.
This combination can lead to chronic diseases and weight gain, Swift says, which makes it necessary to decrease the size. A good news? "You can halve the risk of illness by just losing two inches of your height," says Dr. Savard.
Edible: You must eat beans, nuts, bran, green vegetables, olive oil, most fruits, seeds, lentils, avocados and chickpeas. You can view discount codes & deals from Vegan Nutrition Store. You should add fiber using oats, wholegrain bread, beans, legumes, and non-starchy vegetables.
Avoid: You must control the consumption of pasta, white bread, cakes, rice, sweets and biscuits as well as foods containing artificial sugar, refined oil, butter, margarine, cheese and potatoes, fast food and alcohol.
Consultation
Every year, after the age of 40, perform a bone density analysis to detect signs of osteoporosis.
Warnings:-
Check with your doctor before making any major changes to your diet or physical activity level.
I hope this helps you to maintain your weight and style.