Recycling has a wide role in our enviroment and it contains good impact on our lifes too. Recycling is necessory for a Mobile phone, tablet, ipad , laptop or any of your electronic devices. In all over the world specially in Uk, up to 70 percent of a phone is recyclable, and there are some companies and services, they takes your old mobile phones, tablets , ipads any of your gadget, and they recycle them for others! As you know that recycling is very important for nature and enviroment because mobile phones, tablets, ipads they all contain a wide range of dangerous materials like metals, plastics and some more valuable compounds  such as silver and gold which can be easily extracted and used again. There are a lot of options available for recycling and reusing old mobile phones.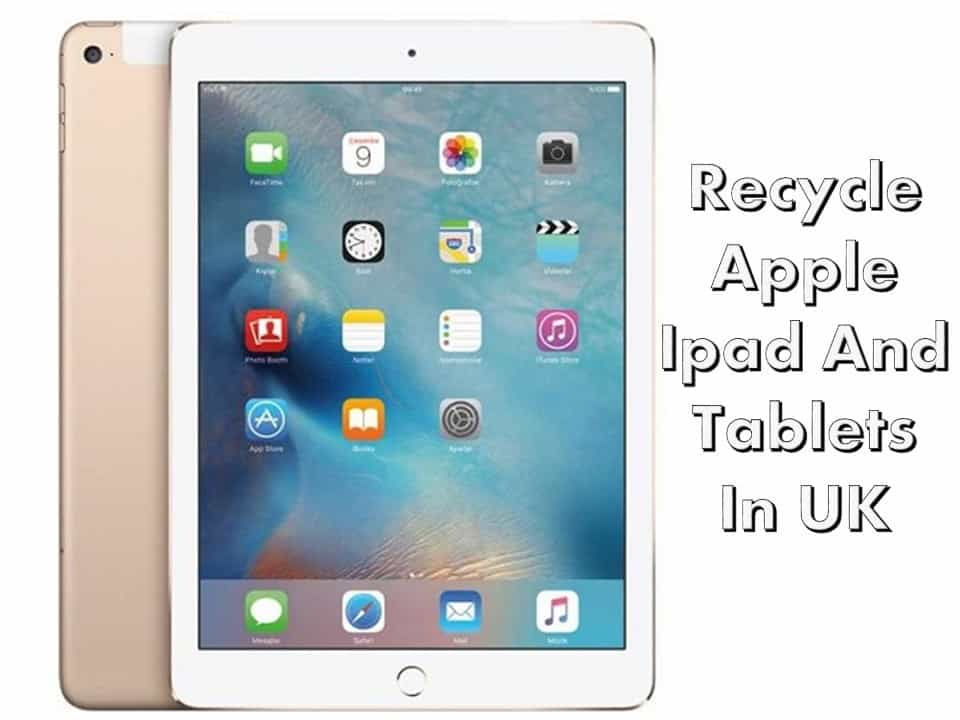 Apple recently has published the Apple renew program, which gives you a great opportunity in Apple gift cards and good vibes to recycle old iPhones, iPads, Tablets and many other devices. Here is what you are supposed to get back if you send your used devices to them. Recycling with Apple renew program is very simple. You just have to grab some information about the model of device you want to get recycle, its storage, condition, and a few more things, then you will need a site for comparing prices, you can go for sellanymobile site, it will give you a good return value for your device. To simplify things more, here is what you can surely  get back from Apple, according to the type of your device you have. What You will Get for Your Old tablet or iPad? if your given device is still in good working condition, so then you are supposed to get back a gift for recycling your old Apple tablet. Keep in your mind, that these are only the estimate values for your products, as Apple will aslo decide after seeing your device, and it will vary on your device condition. You can get a new model of ipad and tablet by Apple gift card, for sending your devices to recycle.
It is important to note that your return will be lower if your device does not power on properly, and has a damaged screen, a bent or broken casing or parts, has been damaged by water, or if any of the buttons are not working. Also, the site does not mention anything about those models, so it is possible that it may affect your device's value. If your device is really messed up, they may not offer you anything at all. What they actually do for you, however, they offer environmentally safe disposal for free but if you're intrested. Well for checking those options , and track your Apple device rates , or price comparison you can use the site www.sellanymobile.co.uk, i always use it whenever i want to sell my apple watch, sell my lg, sell my ipod touch, sell my apple iphone, sell my Iphone 3g. It always gives you the best rates for your any devices.
                  Apple's renew program sees your old tablets and iPads as a sum of the materials inside. So It does not really matter for them that what color it is or how much memory it has. This is a good deal for the person who purchased the cheaper models, but it is not so great for those who have spent a hundred dollars on their devices. I think you can get a little more for your devices if you try to sell them and get cash instead of Apple gift cards. Apple will also take your old tablets and other gadgets as well, but there is no gift card available. If you want to safely dispose your Apple iPad or tablet for your enviroment and lifes, they will definately do it for free, but all you will only get the satisfaction in properly disposing old electronics. If you take your old messy or broken iPad in to any Apple Store, however, you will may get a 10% off on the purchase of a new iPad.
                     Most of the companies takes your old devices, and they will pass these devices to any mobile recycling companies like Apple or else they can also send it to some more online market places. You can send your items for free at online sites such as sellanymobile.co.uk. Or sell them by comparing there prices! You should try the comparison tool on the Sell any Mobile website to find who is offering the best price and sell them yourself on the same  website. If your unwanted device is in good working condition, so you can sell it on the above mentioned site after comparing the prices. If you would rather not recycle your phone, tablet or ipad using any of the above, you can dispose it by your own hands with your house other wastes.
How are Old Apple ipads and tablets recycled in UK?
Most of the systems gives the different options and for recycling devices but some of them includes the below methods and schemes.
i : They Separate the metals and recover them.
ii : The Plastic used in device is easily recovered.
iii : They Recover the valuable components like flash and memory devices.
iv : They Reuse some of its parts: like  keyboards, LCD screens, lenses, microphones, phone housings, screws and speakers.
I must say that you make sure, atleast for the peace of your mind, do not forget to remove your personal data before sending your Apple ipad or tablets for recycling. and It is totally your responsibility to make sure your personal data has been removed from your device. Take care of your personal data and reduce the risk of it being used by someone else inappropriately. Apple devices are easily recycled in Uk or anywhere else, and you can also get good cash by sending them to recyle on any Apple store or other online websites mentioned above.