Planning to buy a refurbished or second hand iPhone 6? If so, here's why you should do that and where you can find a good iPhone at a cheap price.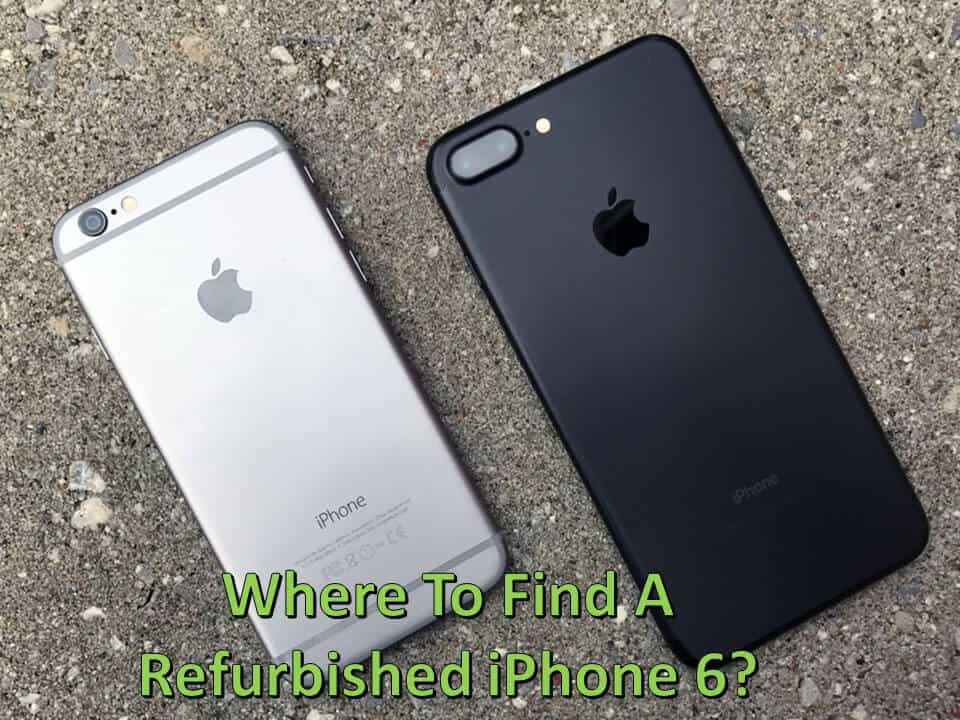 Apple iPhone 6- The Most Wanted iPhone
The iPhone 6 was released in September 2014. From then to now, there are various newest iPhone models have come into existence, but the iPhone 6 is still one of the most wanted iPhones among all.
One of the most important selling points and a dominant feature of the iPhone 6 is the Retina capacitive touchscreen. This 4.7 inches retina screen is the sharpest, most vibrant, and highest-resolution of 750 x 1334 pixels with Ion-strengthened glass and oleophobic coating. The capacitive touch screen brings the users into a new dimension since they can get a natural experience of watching videos and gaming as they get on desktop and TV's.
The iPhone 6 comes with an improved processor, Dual-core 1.4 GHz Typhoon. With this powerful feature, the phone runs faster than its predecessors. It delivers flawless performance and smoother graphics. The A8 chip makes this phone responsive and relatively powerful as the Apple claims that it is more than 84x powerful as compared with the A7 chip. Launching apps, browsing the internet, and doing just about anything and everything is fastest because of this.
Its 8MP camera is another improvement. It comes with Dual-LED dual-tone flash and HDR capabilities so you can automatically take a snapshot which is clearly bright and eye-catching. With using a burst mode on the selfie camera, you can capture your very own self-portrait shot.
Another feature is that it features a powerful Non-removable Li-Po battery of 1810 mAh. The superior battery supports up to 50 hours of audio for the iPhone 6 and up to 14 hours of talk time, and up to 250 hours of standby without needing a charge.
Overall, what Apple has to do is to convince people that the iPhone 6 is worth the upgrade, even if there are a lot of other smartphones to choose from, the iPhone 6 still holds a top rank among all.
Why Should You Buy A Refurbished iPhone 6
If you are one of those who wants to own the iPhone 6 but doesn't want to spend money on a brand new handset, don't fret; refurbished or second hand iPhone 6 is for you. Second-hand iPhone 6 is cheaper than a brand new counterpart because these phones are used ones and available for resale at low prices. Apart from the fact that the refurbished iPhone 6 devices save money because of their affordable prices, they have various other advantages that make them popular. Have a look at these:
The refurbished iPhone 6 comes with fresh components and functions as good as new ones. These phones undergo a comprehensive refurbishment process in which their problem areas have been fixed by expert technicians. Faulty parts are replaced with new quality parts to restore the normal condition of such phones.
The software of refurbished iPhone 6 is also reliable. In the refurbishment process, the iPhone experts handle all glitches and make sure they run the latest iOS.
The refurbished iPhone 6 is unlocked that means you are free for using any of your favourite cellular network services on the handset. Otherwise, with a locked iPhone 6, you are bound to use particular cellular services.
Similar to the brand iPhone 6, you can also enjoy all features with refurbished iPhone. Such phones include an improved camera, battery, storage capacity, internet connectivity, and much more.
Last but not the least, refurbished iPhone 6 comes with a decent warranty if you buy it from a reputable shop. Typically, smartphone dealers offer 6-12 month warranty for refurbished mobile phones.
Where To Find A Refurbished iPhone 6?
In this modern age, the best way to find a refurbished or second hand iPhone 6 for cheap is to go to online. There are many online places that sell refurbished and second hand iPhones, therefore, you can choose from. Here's a list of top online places these days:
eBay: This auction site is a very well-known place where sellers come to sell their used or refurbished iPhones. You can explore different bidding deals and choose the most suitable one.
Craigslist: There are also some free to use Classified Ad type sites such as Craigslist where you can find refurbished and second hand phones for sale by individuals. People place a free classified ad with the phone photos that they want to sell and other people looking for them simply make contact to buy them.
Third-Party Authorised Dealers' Stores: Such online shops are typically approved by the leading manufacturers and have a wide range of factory refurbished and second hand iPhones for sale. In my opinion, this option is more reliable than others if you are thinking of buying a refurbished or second hand iPhone 6.
Tips to Consider While Buying Refurbished or Second Hand iPhones
If you are looking for a safe deal on a second hand or refurbished iPhone 6, here's a list of things you should keep in mind.
Try to buy used phones only from an authorised dealer or reseller's shop online that has a trusted name in the market. To do that, you can check the reviews and terms and conditions at the site.
Don't make a purchase from the first shop. Browse multiple options and compare them to find the best one.
Before placing an order, you should read the product description in detail so that you can understand what the phone's condition is.
Make sure that the phone is not blacklisted. Such phones are useless.
Ask about the warranty and return policy from the seller.