Travel the world and make money is not a myth anymore. Let's find out how: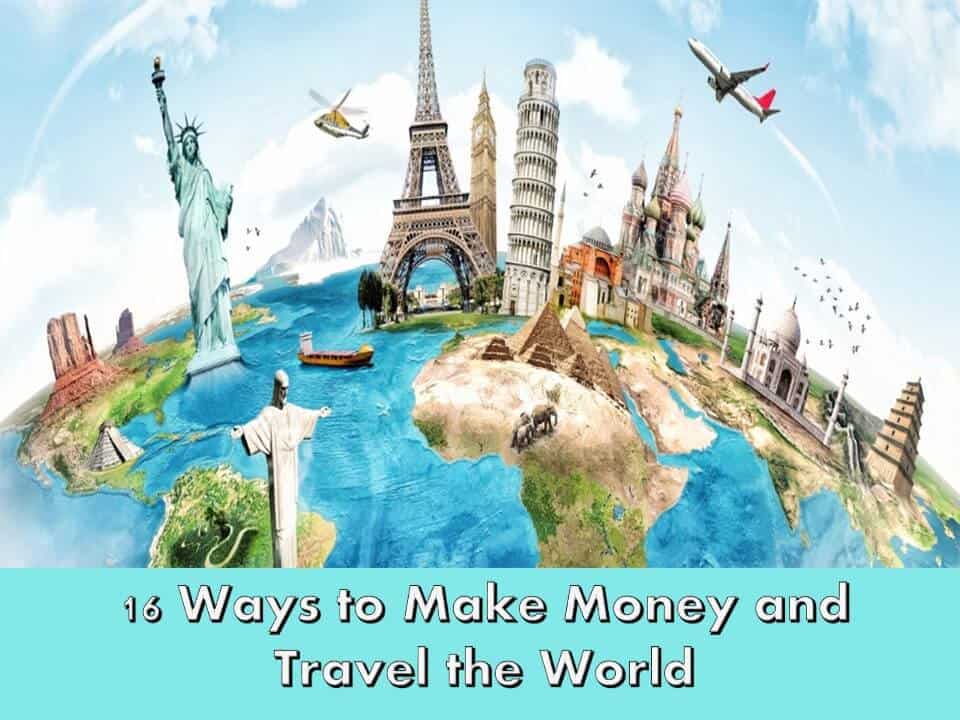 1.    Teach English
There are thousands of job opportunities around the world and in most cases, you don't need any certifications to do these job. Teaching English to others is one of the jobs where you do not require a certification. South Korea, Japan, Thailand are some destinations where you can find English teaching jobs.
2.    Sell Timeshares
If you are a good salesperson and travelling to Greece, Mexico, Thailand or any other major resort area then you can find work selling timeshares. The possibility of good earnings is huge in this line of work.
3.    Resort Jobs
If you are not good at selling things then you can try to work as a front desk officer or bartender at any resort all over the world. If you have spare days then try out this idea. This is kind of a fun job. Also, go to the resorts when there is a high season. It will increase your chances to get selected.
4.    Work in a Hostel
To save money while travelling, its good idea to look for jobs in hostels. Hostels are often looking to hire new staff to work for them in exchange for free night stay throughout the job. So, you don't need to sell mobile phone (if you have any spare) to make and save money. Just look for hostels around you and offer them your free time.
5.    Be a Model, Act on TV
Well, if you have a beautiful face and perfect figure then you can try this idea. Find out your nearest modeling agency, go there and try your luck. Who knows you can be on the big screen one day.
6.    Working Holiday Visas
If you are between 18 to 30 age and travelling to a country like Australia, New Zealand, Canada or France then you can work there in working holiday visa department. It might be your best option to make money and travel. If you do this job, you can stay in that country for up to one year. It is a good option for you to earn money while being overseas.
7.    Be a Graphic Designer
It is not necessary that you can only earn money by doing a hectic physical activity. You can earn cash ONLINE as well. If you are good at graphic designing then find out any freelance work for yourself while travelling around the world. I am a freelance graphic designer as well. So, whenever I travel, I offer my freelance services and get a good amount of cash by doing graphic designing online. So if you are creative and have skills in Photoshop, then offer your services. There is a huge demand for creative graphic designers.
8.    Fruit Picking
There is also a seasonal job and it pays very well, it's called Fruit Picking. Picking fruits and vegetables is a famous job among backpackers and travellers. You can pick mangoes in Australia, grapes in Italy and Kiwis in New Zealand. The payment can be in the form of cash per kilo of picking fruits, vegetables, flowers. Or you can get free room to stay. So if you are travelling to any of these countries apply at your earliest before the harvest season begins.
9.    Travel Blogging
If you love to write then you can become a travel blogger. Although it's not easy to earn as a travel blogger because it requires a lot of time and effort to write and earn. But as a travel blogger, you can earn some extra cash to help fund your travel expenses. It is not necessary that you only have to write about travelling, you can select any niche or topic to write and get paid. So, what are you waiting for? Start writing your blogs now.
10.   Crew on a Yacht
If you have a dream to visit the remote places of the world and don't suffer from sea sickness then this job might be a suitable option for you. You can work as a crew member on a yacht or sailboat. Almost every boat owner has a website where the owner is looking for crew members to sail with them. It is surely a unique experience for you if you get selected and travel around the world in a yacht.
11.    Become a DJ
Do you have great taste in music and can make the crowd dance to your tunes? Excellent! Your DJ gig is waiting for you. Go to your nearest party destination. The management might be looking for a DJ. Introduce yourself and try your luck. And if you get hired, go play your best demo mix.
12.    Selling Stuff Online
You can sell all sorts of stuff online. All of us have one or two old mobile phones lying here and there. Another way to make some money is by using a mobile phone recycling comparison website to sell your phones.  As a matter of fact, you can sell other stuff online to keep support your travel expenses. Similarly, if you have skills, you can make your own handmade products and sell them. You can make your own website or list your handmade products on eBay or any other online sales outlet.
13.    Housesitting
Having a free place to live while being overseas is a great blessing. Well, you can find one for yourself. All you have to do is to look after somebody else's home while they are away. You can easily find a housesitting gig for yourself. These gigs can be of one week  to one month or maybe one year.
14.    SEO Expert
As an SEO expert, you can help different companies and businesses to rank better on Google and other search engines. Hunt for freelance SEO gig while travelling.
15.    Virtual Assistant
Nowadays, many digital media gurus and entrepreneurs hire their personal Virtual Assistants (VA). If you have the required skills to act as a virtual secretary, search for these jobs available online. You have to manage daily tasks like scheduling appointments, replying to emails, making some phone calls, etc.
16.    Vlogger / YouTuber
If you love to record videos of yourself with confidence or have a cute pet that you want to film. Or have a knack for making tutorial videos then you should become a Vlogger. With more than one billion users, YouTube is the best platform for you if you are a Vlogger. All you have to do is make unique content videos, upload them, monetize your YouTube channel and start earning £££.