There are very few cities on Earth that are as exciting and enticing as Hong Kong. The chaotic streets, flashing signs, glittering skyscrapers, effervescent night clubs and cultural fusion becomes an attraction for more than 40 million visitors every year. They say a New York minute is a Hong Kong second, which is totally justified with the fast lifestyle this city boasts of.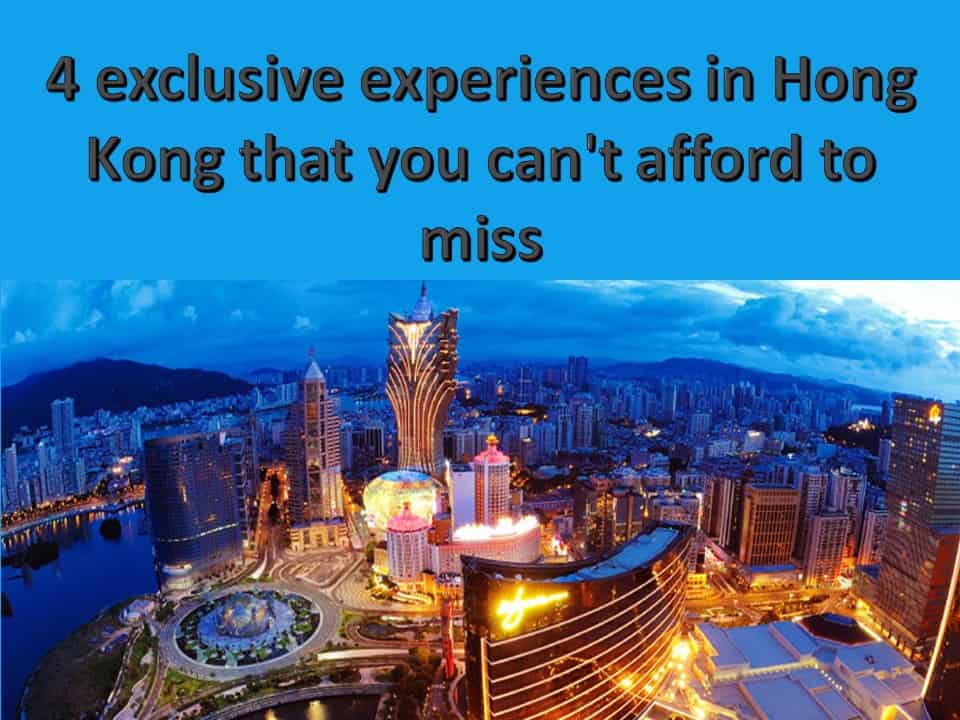 The experiences in Hong Kong can vary from sheer romantic experiences to eventful evenings, from insane fun to historic explorations. Let's have a look at the top 5 experiences that you just can't afford to miss —
A

Hong Kong food tour with an expert
Whether you are a serious foodie or a novice, you must dig into Cantonese delicacies as Hong Kong is all about food. With more than 10,000 Chinese restaurants, street food stalls and noodle shops, it is almost impossible to choose the best without any locals supervision. From regional cuisines like Shun Tak, Chiu Chow, and Hakka to your favourite Dimsums, Succulent roast pork and hand-crafted noodles, savour all the famous delicacies in your Hong Kong food tour.
Hotel Booking for Hong Kong can be easily be done online through ixigo.com. You can compare the prices of all hotels and choose the best ones as per your budget and requirements.
Exploring the Lantau Island
One of the great ways to explore the other side of Hong Kong is a full-day tour of the Lantau Island. From admiring the mind-blowing Buddhist architecture to spending leisure time at the sandy beaches, there is a lot to indulge on this island. Also, you can't miss spending some amazing moments at the beautiful Disney Island.
Hike the Dragon's Back
Other than urban sprawl and skyscrapers, there is another side to Hong Kong that sometimes surprises it's first-time visitors. Around 38% of the land is designated as country park and ecompasses well sign-posted hiking trails. The Dragon's Back is one of the best places to enjoy hiking in Hong Kong. This 50-km long trail passes through five country parks and offers spectacular views of the southside and Big Wave Bay Beach.
Ride the Star Ferry
Your visit to Hong Kong can't be complete without riding the iconic Star Ferry. The famous ferry has been ploughing across Victoria harbour between Kowloon and Hong Kong for over a thousand years now. It is one of the cherished travel experiences in Hong Kong and is also very reasonable. You can get a ride at $2.40 HKD on weekdays and $3.40 on weekends.
On your upcoming trip to Hong Kong, don't miss out on these experiences and have a wonderful trip 🙂